Posted on June 9th, 2014 by Jenny Frankel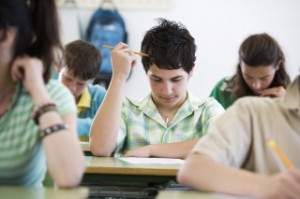 Getting children to pay attention in school is not an easy task. Most kids would rather be doing pretty much anything other than learning math, and warning them about the future financial problems they might face if they do not pay attention can be too abstract and far away for them to care about.
This has inspired a lot of studies on the effects of giving students money in an attempt to improve grades. One recent study actually demonstrated that elementary and high school students who are offered money to try harder on tests actually do better than students who are not offered money. The children who were offered money for high test scores did not have extra time to study or prepare. They were just told right before taking the test that they would be rewarded if they did well.
There is a slight caveat, however. The students have to be expecting to receive the money very soon after (or even before) the student takes the test. Some children were given money in advance and told that they would lose it if they did not do well on a test (these children did the best), other children were told they would get money immediately after taking the test (they didn't do as well, but there was still an improvement) and still other children were told that they would receive money a month after taking the test (they had little improvement). This seems to show that children respond best to the more tangible and immediate rewards, and are not affected much at all by promises that are far off in the future.
One might argue that the real question this study raises is an ethical one. Is it okay to bribe children with money for high test scores? After all, they are attending classes for their own benefit, so it might seem overkill to give them money on top of that. However, one could also argue that if it helps motivate students then it is a good thing and that is that.
If these experiments sound interesting, you may consider getting a graduate degree in economics, where you can actually help create and help perform studies just like this one.
No Responses to "Money For High Test Scores"
Leave a Reply