Posted on March 12th, 2014 by Bryanna Davis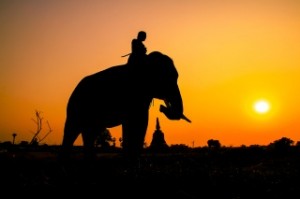 Even while studying abroad it's easy to get swept away in the daily hustle and bustle of life. Whether it takes a few weeks or months, a routine is established and tasks like going to class, grocery shopping, hitting the gym and homework can take over. However, keep in mind that studying abroad is a once in a lifetime opportunity meaning you should take full advantage of the fun you have waiting for you! If you're stuck in a rut of finding fun things to do, here are 6 random things you must do while studying abroad:
 Attend a Cultural Ceremony: Whether it's a wedding, birthday, anniversary party, funeral or another cultural-specific ceremony, make sure you attend! If you don't know anyone directly who is hosting one of these ceremonies, ask a friend who is a native in your host country if you can accompany them on the next one they attend.
Take a Road Trip: Traveling by plane can be tempting since it gets you where you need to be in no time. However, sometimes taking a slower option, like a car, can give you a better journey before you get to your destination.
Dress in "Traditional Clothing": Even if just for a few minutes to snap some photos, you will be glad you did. Photography businesses often have traditional clothing and props that you can use for a photo-shoot session, so grab a few friends and make a photo memory!
Conduct a Fruit Test: More than likely one of the first things you did was test out the new supply of candy you have at your fingertips. Now it's time to hit up the fruit aisle. Grab a friend and buy one piece of every fruit you have never tried. Go home, wash the fruit, cut it if necessary and have a sampling party! Make sure to keep notes of your samples so you can remember your new favorites next time you go to the store.
Make Your Own Map: A few days before you leave make a map of your neighborhood. Start by mapping out the roads and any natural land marks like rivers, mountains or fields. Next, pinpoint everywhere that you want to remember including your favorite local restaurant, pub, shopping center, park, where you lived, where your friends lived, short cuts through campus and places that were great to study. Having your own map will allow you to not only pass it along if you later have friends who visit the city you studied in, but if you ever return for a visit it will only take a moment to spark up your memory on where to visit.
Explore Transportation Options: Even if studying in India doesn't mean you will take an elephant to class on a typical day, if it's a historical mode of transportation in your host country, try it at least once!
If you are still in the process of finding a school to study abroad at, you can get started here.
One Response to "6 Random Things You Must Do While Studying Abroad"
Spanish school Costa Rica Says:
January 22nd, 2015 at 7:48 am

Thanks for the very informative post. My sister is also studying abroad. It will be useful for her. What better way to learn about a country's culture than to study there? This requires an excellent command of the local language.
Leave a Reply