Posted on March 14th, 2014 by Bryanna Davis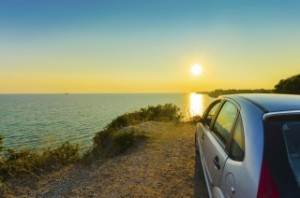 Spring break is finally here which means it's time to hit the open road with a few friends and enjoy a sight-seeing road trip! Road trips are a great way for international students in the US to see areas that might have otherwise been overlooked. While it might seem easy enough to plan a road trip, if this is your first one, you'll want to follow these basic tips.
Don't Forget the Tent: Instead of staying at hotels, bring a tent and camp! Not only will this be easy on your student budget, but you'll get to experience nature at its best and chances are make a lot of new friends. The key ingredient to camping while on a road trip is make sure the camping grounds you stay at have showers. It will make sitting in a car for hours on end after spending the night under the stars much better.
Bring Peanut Butter: Chances are you'll want to save your money for drinks, gas and any souvenirs you find along the way. To cut down on food costs make sure you bring peanut butter. Not only is peanut butter cheap but it's versatile and doesn't need to be kept cool. Keep your eyes open for homemade bread, fresh from the tree apples and local honey to turn that peanut butter into a few great lunches and snacks.
Make A Playlist: While we all love our friends, we don't always love their taste in music. To make sure everyone stays happy on the road create a play list that has a variety of music. Ask that each individual who is going on the trip suggest 5-10 of their favorite songs, then combine them all onto one play list in random order. Taking an older car that doesn't have iPod capabilities? Kick it old school and rent a few CD's from the library to bring along.
Have an Emergency Kit: Nothing can ruin a road trip quicker than your car breaking down and not having the right supplies to fix it (or cell phone service to call for help). Even if you have a rental car, make sure you have an emergency kit that includes the following before you go:
A spare tire and jack
Jumper cables
An empty gas can
Bottled water
A solar blanket
Matches
Road flares
A first aid kit
Bring a Map: While you might feel confident in where you are going since you have a GPS, keep in mind that they aren't always accurate in rural areas. Having a map on hand and keeping track of your route as you go along will not only keep you on track but can serve as a great memento of your trip.
If you're still trying to find a destination, check out these top 3 road trip destinations in the US.
No Responses to "Spring Break Road Trip 101"
Leave a Reply