Posted on August 1st, 2013 by Bryanna Davis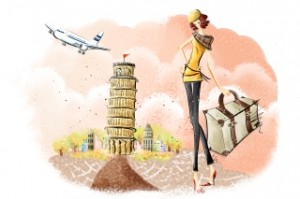 Although your study abroad trip flew by, it was the best time of your life and now you want to share it with the world! The only problem is you're not quite sure how. Luckily, there is no longer a need to worry, since we at International Student have found the solution to your problem- enter our International Student Essay Contest!
Today marks the launch of the month long International Student Essay Contest- this means you have a few weeks to think about and carefully craft your essay, however, all entries must be between 300 and 500 words and submitted before September 1st. This essay must tell the story of a study abroad trip of either yourself or a friend/family member. The angle of your essay is up to you, a few popular topics in the past include how your friends and family reacted to the news you were studying abroad, the moment you realized it was a life-changing experience, the biggest difference between your life at home and abroad.
We know we will receive hundreds of great essays that would even have the Shakespeare stamp of approval, but unfortunately our judges can only pick the top three. Those winners will receive a gift card of their choice in the following amount:
First Place: $200
Second Place: $75
Third Place: $25
Money is great, but so is fame! The top three winners of the International Student Essay Contest will also have their essay and a short bio profiled on InternationalStudent.com, a site that has millions of viewers each year. If you think you have the "write" stuff, submit your essay and let our judges enjoy your literary masterpiece. Here's how:
Complete the entry form (don't forget to include your essay!)
Agree to the terms, enter and hope for the best
One Response to "Get Your Write On: Enter the International Student Essay Contest!"
Jamshid Says:
August 3rd, 2013 at 5:03 am

Thank youuuu ))
Leave a Reply