Posted on October 27th, 2012 by Apinant Hoontrakul
Every year on October 31st people in many parts of the world celebrate Halloween. As an international student studying in the United States for the first time you may wonder what this holiday is all about and how you can celebrate it. For those who are not familiar with Halloween, here is an introduction to Halloween traditions in the US.
Because of many popular American movies, perhaps one of the most widely known way to celebrate Halloween is when children dress up in  costumes and go around knocking on  houses, calling out "trick-or-treat!" and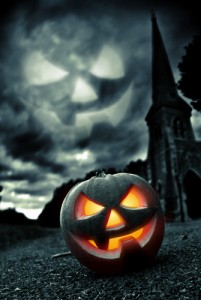 receiving candies from the adults who lives there. While "trick-or-treating" is generally for children, many grownups still dress up in fantastic costumes and decorate their house to look scary for the children who come by.
Pumpkin carving is another popular tradition. Each year starting in early fall, supermarkets and pumpkin patches start selling big orange pumpkins all around the US. People buy these pumpkins to carve different faces on it to create a Jack-O'-Lantern. Many college campuses and schools will hold a pumpkin carving event, students can try their hand doing it themselves or just watch the wonderful creations made by others.
Theme parks and amusement parks often hold special events during this time. One of the best in the nation is "Halloween Horror Nights" at Universal Studios parks in Los Angeles California and Orlando Florida; with Hollywood level production, they create some of the scariest haunted houses around. Students studying at nearby universities like at Full Sail University in Florida and University of Central Florida can easily visit during their weekend.
Keep in mind that Halloween is not an official holiday; your classes are still going to be in session! So remember to go to class, if you are lucky you might even see one or two brave students walking around on campus dressed like a zombie!
Photo of Scary Pumpkin is provided by ShutterStock.com
3 Responses to "An introduction to Halloween traditions in the US"
An introduction to Halloween traditions in the US « The International … | The Best Amusement Parks Says:
November 1st, 2012 at 11:56 pm

[…] Study in the USA, USA Holidays/ Traditions. You can follow any responses to this entry through the RSS 2.0 […]

Muhammed Gassama Says:
November 7th, 2012 at 5:48 pm

I am an international student aspiring to study in the united states of America,economics and political science in-order to be able to understand democracy.This will help me to be able to succeed as a democrat and a politician in my country,The Gambia.I really need financial aid in the form of scholarship to study in the USA.

toà n Says:
November 10th, 2012 at 11:04 am

I wish USA to participate in Halloween 1 times
Leave a Reply