Posted on November 16th, 2022 by International Student
Boston University is a private research university located in the city of Boston, Massachusetts. Methodists founded it in 1839, with its first campus in Newbury, Vermont, before relocating to Boston in 1867. The setting of the University is urban, and the campus is 140 acres in size.
An international student at Boston University is defined as a non-US citizen or a non-US Permanent Resident Green Card holder. A foreign student typically requires an F-1 Student Visa or a J-1 Exchange Visitor visa to study in the United States.
The university is one of the largest employers in Boston with over 4,000 faculty members. It offers a wide variety of courses from bachelor's degrees, master's degrees, and doctorates, right through to medical, dental, business, and law degrees. Boston University consists of 17 schools and colleges on three campuses.
The presence of international students on campus means a wider range of options, perspectives, and knowledge to contribute to the campus's diversity of thought. Interaction with students from various countries is becoming an increasingly important part of higher education as the economy becomes more global in scope.
In this article, we will learn more about studying as an international student at Boston University, including features, benefits, facts, and figures you need to know to be on campus.
Ranking
Boston University is among the country's largest independent, nonprofit universities. Boston University is ranked #41 in National Universities' Best Colleges 2022-2023 edition and 57th among global universities for 2022. The international student population at the University is ranked 12th in the world.
The highly ranked graduate schools at Boston University include the School of Law, School of Management, School of Medicine, College of Engineering, and School of Education. The University's School of Medicine is the country's first cancer research and teaching laboratory. In 1872, Boston University was the first to open all divisions to female students.
Boston University was ranked 35th on the Top 100 Global Universities list in the United States. Boston University is among the 96 American universities to receive the Carnegie Foundation's highest research classification.
Boston University is ranked 41st out of 443 nationally recognized universities. Schools are ranked based on performance across widely accepted excellence indicators.
Rankings of Online Programs: U.S. News evaluates online programs in professional fields with the highest enrollments annually based on criteria such as graduate employment outcomes.
Rankings of Graduate Schools: Explore over 1,900 graduate programs, as well as resources and the tools to assist you in finding the best programs for you.
Reasons to study at Boston University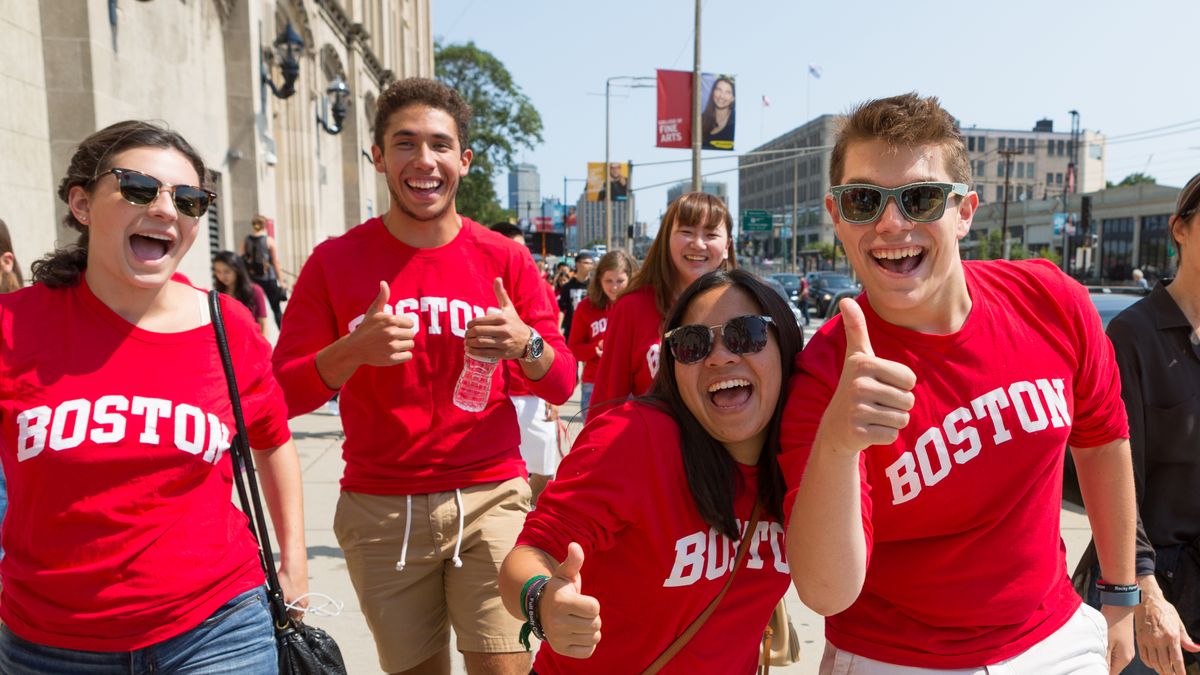 There are several reasons why you should attend Boston University. The undergraduate business program at Boston university is world-class. Popular majors include communication, education, psychology, and health studies. The school is a global university with two campuses in the United States and one in France.
It is a private institution with over 100 majors and minors available through Boston University's eight graduate schools.
Boston University's Academic Life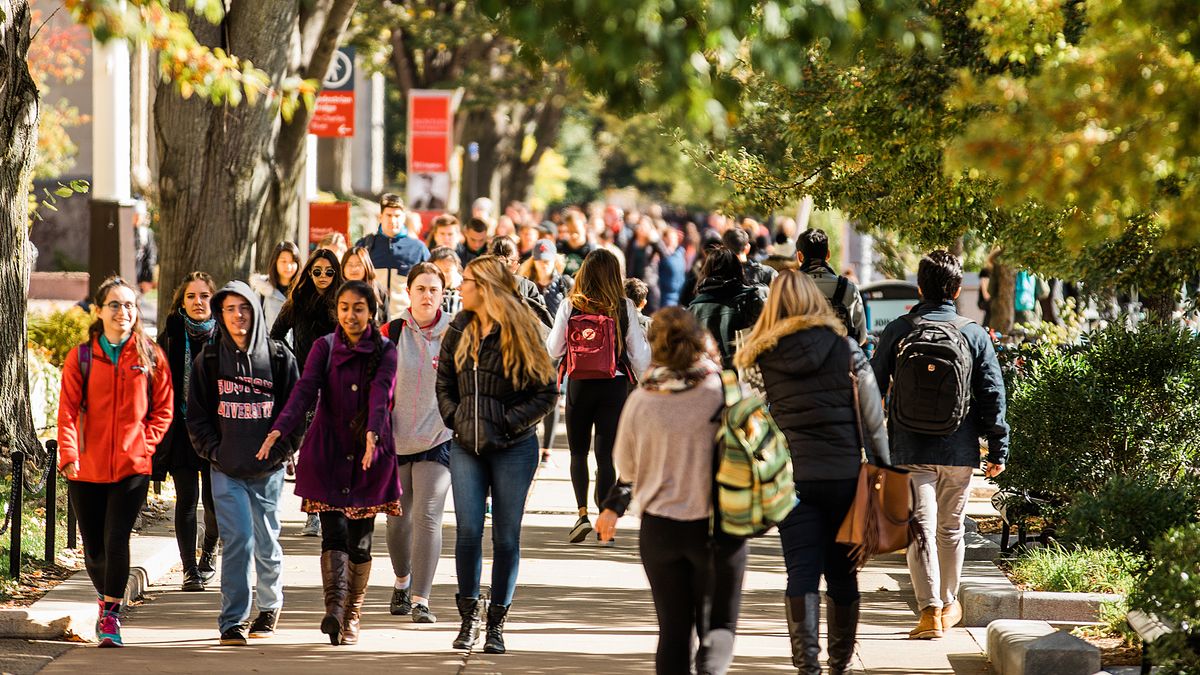 Boston University has an 11:1 student-faculty ratio, and 58.3% of its classes have fewer than 20 students. Social Sciences; Business, Management, Marketing, and Related Support Services; Communication, Journalism, and Related Programs; Biological and Biomedical Sciences; Engineering; Health Professions and Related Programs; Psychology; Computer and Information Sciences and Support Services; Visual and Performing Arts; and Mathematics and Statistics are the most popular majors at Boston University. The average freshman retention rate is 94%, which indicates student satisfaction.
The ideal class size
BU has a surprisingly low student-to-faculty ratio of 11:1 for a university with over 17,000 undergraduates. With an average class size of 30, you will meet and interact with award-winning professors.
A promising future
A BU diploma opens doors. Recruiters and CEOs rank our graduates 13th in the United States regarding employability. We also invest in your future by providing career services to students and alumni.
Global applaud
The Association of American Universities (AAU) has named Boston University to its prestigious list of top research universities in the United States and Canada. It is also ranked 41st among national universities and 57th globally.
Experience in the real world
The fact that you have a plethora of options to consider in your field of study or area of special interest is one of the reasons why you must study at Boston University. They also sent international students worldwide for internships and other opportunities.
A residential campus
Boston University offers a variety of living communities, from historic brownstones lining Bay State Road to modern high-rises overlooking the Charles River to residence halls with dedicated specialty floors. It guarantees on-campus housing for the entire four years of your undergraduate experience.
A global perspective
With over 650 courses on global topics, faculty research on every continent, students from nearly 100 countries, and alumni living in over 180 countries, it's easy to see why BU is ranked among the top universities in the world. Furthermore, Their study abroad program is widely regarded as one of the best in the country.
There is never a dull moment.
You'll be doing a lot more than just studying here. You will participate in one of our 450+ student organizations. So, join a Boston University band, join a Broomball team, go to a Boston University hockey game, get involved in Greek life, run for the BU Student Government, have coffee and conversation at the Howard Thurman Center for Common Ground, go to a Dear Abbeys a cappella show, and chow down at Lobster Night—you'll be feeling your Terrier pride in no time.
A one-of-a-kind city
Boston University isn't called that for nothing. When you're at BU, you're in the middle of it all: hip neighbourhoods, soaring skyscrapers, championship sports teams, and the rich history and culture.
Admission To Boston University
Boston University admissions are extremely selective, with a 20% acceptance rate. Students admitted to Boston University have an average SAT score of 1310-1500 or an ACT score of 30-34. Boston University's regular admissions application deadline is January 4. Interested students can apply for an early decision, and the early decision deadline at Boston University is November 1.
For Boston University, a GPA of 3.71 is required for admission. A mix of A's and B's is required, with more A's than B's. You can compensate for a lower GPA by taking more difficult classes, such as AP or IB courses.
This demonstrates that the students can handle more difficult academics than the average high school student.
How to Apply at Boston University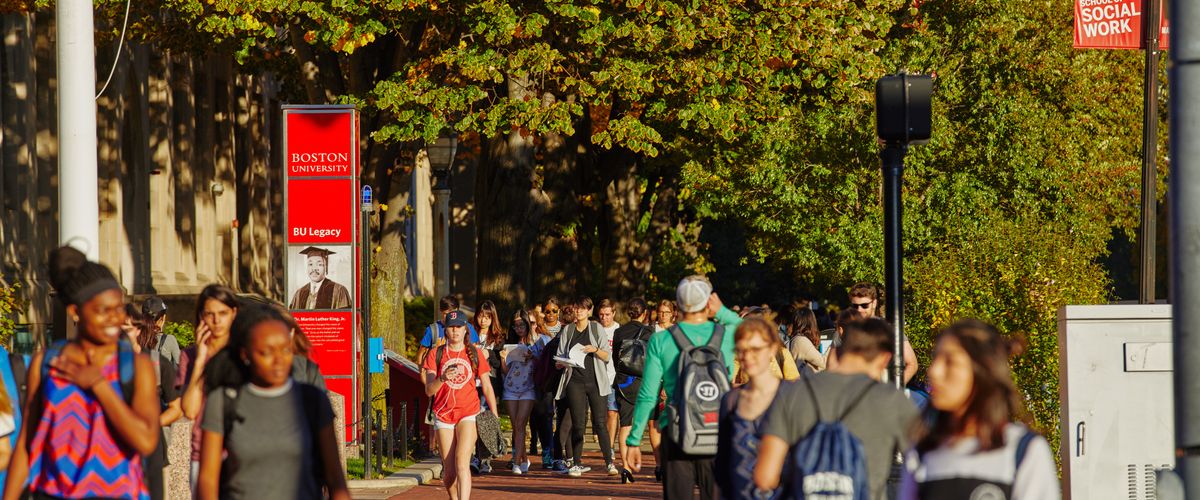 Apply through Boston University's website or the common application.
https://admissions.bu.edu/ is BU's undergraduate webpage. The website is arranged by major and provides application and aid information.
To apply through the common application, register an account
After creating an account, applicants can choose BU as their University and campus.
Choose the right BU campus.
Documents Required to Apply to Boston University
All relevant high school, college, and standardized test scores.
Grade transcript for each completed semester.
Two letters of recommendation from teachers.
A personal statement.
A résumé.
A list of extracurricular activities.
A Standardized test result.
Official/certified mark sheet School life certificate Insurance certificateAs part of your application, you must submit original or certified copies of your credentials from your home country. A copy of any terminating or qualifying examination results or certificates must also be submitted.All documents written in a foreign language must be accompanied by an English translation that has been notarized. Please keep in mind that both the original in your first language and the English translation are required.
Exams Accepted By the University
Duolingo English Test (DET) 110
TOEFL (iBT) 84
International English Language Testing System (IELTS) 7.0 bands
Scholarships
To recognize high-achieving students who go above and beyond, Boston University offers a variety of merit scholarships, some of which cover full tuition. Most awards are given for academic achievement, while others are given to talented athletes, performers, and artists. Furthermore, merit-based awards are not repaid and do not require you to submit a financial aid application.
At the University, 43% of full-time undergraduates receive need-based financial aid, with the average need-based scholarship or grant award standing at $48,604.
International students in their first year are eligible to apply for the Trustee Scholarship, Presidential Scholarship only.
Trustee Scholarship
Approximately 20 outstanding students are admitted annually to Boston University's Trustee Scholars Program. Trustee Scholars are intellectually and creatively adventurous, with perspectives, experiences, or accomplishments that go above and beyond the norm. Many of their current Scholars had perfect 4.0-grade point averages and were at the top of their class in high school.
In other words, they are not only outstanding students but also exceptionally well-rounded individuals. Trustee Scholars at BU become part of a distinct campus community that provides numerous intellectual, cultural, and social opportunities. A Trustee Scholarship pays full undergraduate tuition plus mandatory undergraduate student fees for four years if certain criteria are met.
Submit the Common Application and all required materials for admission to one of BU's undergraduate degree programs by December 1 to be considered for a Trustee Scholarship. As part of your application to the school, complete the Trustee Scholarship essay on the Common Application.
Presidential Scholarship
Each year, the Board of Admissions bestows the Presidential Scholarship on incoming first-year students who have excelled academically. Presidential Scholars are among our most academically gifted students and excel outside of the classroom, and are leaders in their schools and communities. This tuition scholarship of $25,000 is renewable for up to four years of undergraduate studies at BU.
How to apply
There are no additional essays or application forms required. Students interested in the Presidential Scholarship should submit their application and supporting documentation by December 1.
Cost of Studying at Boston University
The University requires each and every foreign student to demonstrate their ability to fund all tuition, fees, books, and living expenses for the duration of their studies. To accomplish this, each student or sponsor must submit financial documentation in the form of an official letter or statement from a bank or financial institution. The document must clearly show the availability of funds to cover the estimated total cost of the program of study.
Tuition and fees are subject to change based on the Board of Trustees' action. The University bills charges by semester. Charges for the first semester are due in full by early August. Its tuition and fees are $62,360.
Campus Life
The university is a place to study, make lifelong friends, and network with future colleagues. It can be difficult to get to know other students outside of class. To find out what's going on on campus, you can join a student group, attend an event at the Howard Thurman Center, or check in with the Dean of Students. Join groups like Alianza Latina to meet other international students.
Boston's relatively small size and reliable public transportation make it easy and cost-effective to travel around the city. Boston provides student transportation options. The MBTA operates subways, buses, and commuter rail. The letter "T" operates citywide bus lines.
A commuter rail serves the city and surrounding villages. The city operates a public ferry system known as "boats." These ferries travel between Hingham, Hull, and Quincy. Logan Airport is served by "Boats." Wheelchair users can use the "B" subway line. Paratransit for people with disabilities is also available.
Among the student services provided by Boston University are nonremedial tutoring, a women's center, placement service, daycare, health service, and health insurance. Boston University also provides 24-hour foot and vehicle patrols, late-night transport/escort service, 24-hour emergency telephones, lighted pathways/sidewalks, and controlled dormitory access.
Boston University requires first-year students to live on campus. It provides on-campus housing for all four undergraduate years, which approximately 75% of students take advantage of. Over 80% of the Boston University student body lives on campus, making dorms an important part of student life. Boston University provides a diverse range of housing options, including historic brownstones, modern high-rises, and apartments, because so many students live on campus throughout their undergraduate years.
The main Boston University campus and the Boston housing options are located in the heart of Boston, along the Charles River. BU also has a Student Village, which is a vibrant area with a close-knit student community. Furthermore, BU provides housing that emphasizes experiential learning and common interests. Communities such as BU's Earth House, which focuses on sustainable living and environmental justice, and BU's Global House, which focuses on foreign language proficiency, fall into this category.
Undergraduates and graduates may live on campus. University students are housed in Bay Village, Commonwealth Place, and Silverman. The University's largest housing development is in Bay Village. Commonwealth Place is the University's upscale residence. Silverman is intended for advanced students. Single and double rooms are available in the University's co-ed housing. A dining hall is available in each student housing complex.
Boston University housing is close to public transportation. Off-campus clubs and restaurants can be reached by foot or subway. Gyms and athletic facilities are easily accessible to students. Shuttles run for free between campus housing and academic buildings. Single, double, shared, and suite-style rooms are available in the University's housing complexes. Students can live on or off campus in the city.
Facts About Boston University
The Boston University bridge is one of only three in the world that allows a plane to fly over a car driving over a train traveling over a boat.
BU's name has changed several times: from Newbury Biblical Institute to Methodist General Biblical Institute of Concord in 1847, Beacon Hill in 1867, Boston Theological School, and finally to Boston University two years later.
The Castle at BU was originally built as a residence for prominent Boston businessman William Lindsey (1858-1922). The BU Pub, Boston University's only bar, is located in the basement. It's a fun venue for receptions and concerts. It was also a major filming location for Kevin Spacey's 21.
Jason Alexander, Geena Davis, Emily Deschanel, Faye Dunaway, Rosie O'Donnell, Julianne Moore, Howard Stern, and Leonard Nimoy aka Spock are among the notable alumni. Martin Luther King Jr. is one of the a proud alumni of the University. Martin Luther King studied at BU to get his Ph.D. in the School of Theology.
The Judson B. Coit Observatory is open to the public on Wednesday nights to observe the constellations and night sky. The Boston terrier was named BU's official mascot in 1917. The Boston terrier was first bred in 1839, the same year that Boston University was established.
BU sends more varsity hockey players to the NHL (National Hockey League) than any other college.
Benefits of Studying at Boston University
With its deep academic roots, Boston has long been a desirable destination for ambitious undergraduates. The city is home to some of the country's oldest educational institutions. They have been a part of Cambridge's academic life since 1964, with our modern campus nestled among some of the world's best universities.
Hult is home to a diverse student population of over 150 nationalities as part of its global campus network in the United States, the United Kingdom, the Middle East, and Asia.
Along with its academic appeal, Boston has a plethora of extracurricular activities. Students from all walks of life are proud to call Boston home, taking advantage of the city's world-class restaurants, entertainment, sports, and athletic events.
Although Boston has all of the amenities of a big city, its smaller scale makes it easy for students to navigate and take advantage of everything it offers. Downtown lends itself to walking exploration, while the city's network of buses, trams, subway, rail system, and even the world-famous Duck Tour make the city's charming and eclectic neighborhoods easily accessible.
Inspiring Academic Atmosphere
Boston is a global higher education hub. With over 50 colleges and universities in the metropolitan area, the city is home to over 250,000 international students. This concentration of academic activity contributes to Boston's lively, forward-thinking atmosphere.
The city has certainly earned the moniker "Athens of America." Boston has historically been a center of progressive thought leadership, laying the groundwork for the American Revolution and nurturing great thinkers like Benjamin Franklin, who helped define political philosophy in the country's early days of democracy.
Excellent career opportunities and connections
It's no surprise that the Boston area is home to global corporations such as Bain Capital, Converse, Boston Scientific, Fidelity Investments, and State Street, given its vibrant intellectual environment and well-connected East Coast location.
Boston leads the way in several growing industries, including healthcare, management consulting, finance, and venture capital, making it an excellent place for career-focused graduates to enter the job market. Making the most of the city's networking and work experience opportunities as a student can give you a significant advantage when it comes to beginning your professional life in whatever industry you hope to break into after graduation.
A fantastic location for exploration and travel.
One of America's major travel hubs, Logan International Airport, serves Boston. Boston is an ideal base for international students and those looking to explore more of America, with frequent transatlantic flights as well as non-stop flights to major U.S. cities such as New York, Chicago, Miami, and San Francisco.
Closer to home, students studying in Boston can enjoy the beautiful beaches of nearby Cape Cod in the summer, easy access to New York, and hiking and skiing opportunities in Vermont's stunning peaks, all within a few hours of campus.
Arts and culture centerBoston's rich history and diversity in the arts make the city a cultural hotspot, ideal for students looking to immerse themselves in live music, museums, theatre, and much more. You'll be spoiled for choice if you want to see a Broadway show, learn more about American history, or watch some stand-up comedy. And you can often get great discounts if you have an undergraduate student ID.For example, the vast Museum of Fine Arts offers special student admission deals. The ideal way to experience world-class culture on a student's budget. Similarly, the Boston Symphony Orchestra's College Card entitles you to get regular tickets to performances by renowned musicians.
Book discussions, lectures, and poetry readings are held at the library. Exhibits are held at the library. Global art and artifacts are featured in themed exhibits.
Halloween and St. Patrick's Day celebrations are held at the library. The medical center for Boston University provides medical and psychological care. The hospital is open to both students and the general public.
The medical center hosts annual events and workshops. The University provides career services and mentoring to students and alumni. The career center at the University provides job-search classes and presentations.
Conclusion
The University takes pride in providing an environment where students can be a part of a college community and a large urban scene. Boston University has a lot to offer college students in terms of academics and a diverse range of extracurricular activities.
Boston university graduates are well prepared to lead in an interconnected world, thanks to thousands of research and internship opportunities in the United States and abroad. The Bu graduates are ranked 13th in terms of employability. Boston University prepares you for academic, professional, and social success.
Whatever your career path, however, things change; wherever you go, you'll be prepared. Your dream degree awaits you at a world-class university like BU. It is the best University that prepares you to be challenged and inspired in unexpected ways.
Boston University provides research opportunities. The Center for the Study of Business in Society is well-known (CSBS). CSBS hosts conferences and workshops to discuss business issues with corporate executives and academics.
Other campus organizations offer research opportunities to students. Boston University Medical Center is an excellent location for medical research. The department at Boston University is regarded as one of the best in the country.
Frequently Asked Questions
Why is Boston University so Famous
Boston University is well-known for its excellent academics, as demonstrated throughout this article. Many observers rank BU among the top 50 universities in the world, highlighting its music and law programs, among others that the students get to enjoy based on their programs, as well as the majors they take an interest in.
When you say hello to the University, you say hello to opportunity. One of the best in the united states.
Is Boston University a Prestigious College
BU is one of only three Boston and Cambridge universities named to the prestigious Association of American Universities. The United States ranks it 41st among national universities.
Can International Student Work at Boston
Many international students work part-time on campus during their graduate study abroad. We recommend speaking with your academic advisor before applying for a job or accepting an offer to ensure that a job will not interfere with your academic studies.
How is Boston for International students
Boston, Massachusetts, is a popular study-abroad destination in the United States. It is close to some of the world's best and most prestigious universities and a well-known academic hub in the country. A foreign student fit in well in Boston, finding their place and feeling safe.
Is Boston University Ivy League
Because Ivy League is used as a shorthand description of good colleges, many people believe BU is an Ivy League school. And they're partially right, at least in terms of connotation. Boston University is not a member of the Ivy League.
No, Boston University is not part of the Ivy League campus. However, it is without a doubt one of the best schools in the country.
Is Boston University a Good Place for International Students
Overall, Boston University is ranked among the top schools for international students to study abroad. The University is a popular choice for a foreign student studying in the United States. The most recent statistics show Boston University has over 11,000 international students from at least 134 countries.
What is Boston University famous for?
It is famous for its highly-ranked graduate school. The highly ranked graduate schools at Boston University include the School of Law, School of Management, School of Medicine, College of Engineering, and School of Education. The BU School of Medicine is the country's first cancer research and teaching laboratory.
Tips for International Students
College is an adjustment for any student, but it is especially difficult for international students who must adapt to a new culture and, in some cases, a new language, all while navigating campus and learning to live in an unfamiliar city. More than a dozen upperclassmen international students were contacted by BU Today. They were asked to think about their own experiences and make some recommendations for Boston University.
If English is not your first language, you must take the TOEFL Internet Based Test (TOEFL iBT), the International English Language Testing System (IELTS), or the Duolingo English Test (DET). If English is your first language but you speak another at home, you should submit English proficiency results to demonstrate fluency.
5 Responses to "Boston University"
Leave a Reply