Posted on September 4th, 2020 by Connor Blay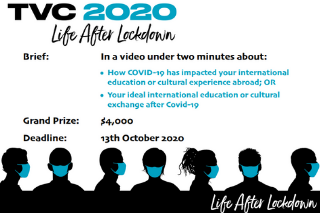 You've heard about it, you've had time to plan for it and now it's finally here! Our 15th annual Travel Video Contest arrived on your screens earlier this week after some careful thought and consideration from our team. Truthfully, with the current state of the pandemic making it so difficult for international students to make trips outside of their home countries, we wondered if there would even be a Travel Video Contest this year. But after taking time to think about and discuss it, the team came up with a way to make it work – TVC: Life After Lockdown. It's still the same old Travel Video Contest that you know and love but with a few updates to the theme, eligibility and rules. So, what exactly will the contest look like this year?
Theme
It's a little different than in years past. For this year's contest, we're asking you to create a video that is two minutes or less in length and discusses one or both of the following:
How COVID-19 has impacted your international education or cultural exchange experience abroad
AND/OR
Your ideal international education or cultural exchange after COVID-19
We encourage you to tell your story and/or to convey your future plans as creatively and specifically as possible. It's a good idea to make a storyboard to plan out your video before you start production.
Eligibility
We're more open for submissions than ever before! You are eligible to submit a video if you fall under one of these categories:
You're currently studying outside of your home country
You're currently on an exchange program
You're an international student or exchange program participant who had an interruption because of the pandemic
You have a proposed study abroad or cultural exchange
Rules
The main changes to the rules this year are:
The maximum length for your video is 2 minutes instead of 4 minutes. There is no minimum length.
Your video must be uploaded to YouTube, Vimeo or DailyMotion.
Be sure to carefully read through each of the rules and regulations prior to making a submission.
Tips From Last Year's Winner
In 2019, Ayush Rai wowed our panel of judges with his video "Jumping Borders", which displayed his undeniable talent in visual effects, and took home the $4,000 Grand Prize. When I last spoke with him, he had this piece of advice to share: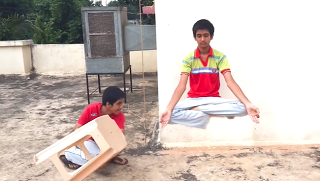 "I would suggest [this year's competitors] to be unique, to be able to stand out. Whatever ideas that are coming in their head should be challenged again and again so that it doesn't end up being the same as others. Also, the whole video should lead ultimately to the question/topic of the contest, don't add unnecessary things. I wish good luck to all the international students that are going to take on the challenge!"
How Do You Enter?
For more details on TVC: Life After Lockdown, including how to enter, please visit the official contest page or send us an email at contest@internationalstudent.com.We can't wait to see what videos you all create this year and best of luck to you!
No Responses to "TVC: Life After Lockdown Now Open for Submissions"
Leave a Reply