Posted on August 7th, 2020 by Connor Blay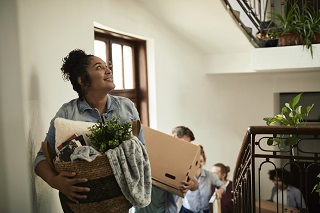 A huge part of studying outside your home country is finding your home away from home. Before moving to the US to start your studies, be sure to compare housing options. There are a number of factors to consider in your housing search, such as rent cost, location, safety, amenities and roommates. The two main types of housing that are available to you are on-campus and off-campus. I'm going to break down the factors of each for you so that you can compare and decide which will be the best option for you.
On-Campus Housing
If your school offers on-campus housing options, it will likely be in dorms, which are essentially a room with one or more beds that could be compared to a hotel room that you're free to decorate. Let's go through each of the factors to consider as they relate to this option:
Rent Cost
Living on-campus is often the most expensive option for student housing. But keep in mind that you won't need to worry about any added bills or fees. It will vary by school but typically, rent is a one-time payment with electricity, water, internet, etc. included. Institutions will sometimes even offer financial assistance and waivers.
Location
Possibly the best part about on-campus housing is the convenience. Having everything on your school's campus within walking distance is certainly nice, especially if you don't have access to transportation. Many first-year students are required to or choose to live on campus to help get acclimated to the new environment. You will be surrounded by other students who can relate to being in a new place. It's an excellent way to get social and make friendships that could last a lifetime.
Safety
Institutions take various measures to ensure student safety in on-campus housing. It's likely that there will be hired security to prevent unwanted guests. When I lived on campus, it was required to swipe a key card to enter my residence hall and anyone without access to the building, including students who lived in other residence halls, couldn't enter unless let in by someone living inside the building.
Amenities
Usually, every student enrolled in courses will have access to the school's amenities which could include a gym, pool, library, etc. Since all students have access to these amenities, they could be overly crowded at times. But being located near these amenities, having the ability to walk from your dorm to them, is a definite plus.
Roommates
You will have the choice to live in a dorm with or without roommates. If you're a person who gets lonely, it may be nice to have someone to live with to keep you company. Living with roommates is also typically cheaper than living on your own. If you don't have a roommate, campus housing may offer a roommate matching system to help you find people with similar interests to room with.
Off-Campus Housing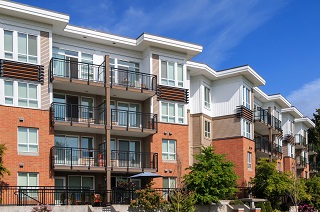 Off-campus housing options include apartments, townhomes, condos and houses. Choose one of these options and search for available listings in the area that fit your needs. Let's go through those factors to consider for off-campus housing:
Rent Cost
Living off-campus is typically cheaper in cost than living on-campus. So, if you're looking to save some money, this might be the option for you. Rent off-campus depends on the location, quality and whether or not you have roommates. Keep in mind that you will also need to factor in bills for electricity, water, internet, etc. if you choose to live off-campus. Set a budget and check what's available in the area so that you can compare prices. You can use our website to explore apartment options.
Location
Usually, the closer you are to campus, the more expensive the rent. Ask yourself a few questions about the location of your housing:
Do I have access to transportation that will allow me to get to campus on time for class or can I walk?
Do I like the feel of the area?
Is it safe?
Safety
Before signing a lease off-campus, do some research on the surrounding area. Make sure that you will feel comfortable in the area that you choose to live in as you may not have access to the same security measures as on-campus housing. There are many apartment complexes that have hired security and some are even gated. It's a good idea to ask the leasing office about the security measures in place before signing your lease.

Amenities
Your off-campus housing site might come with added bonuses like a pool, recreation center, community events and maintenance services that will be a part of your rent cost. Amenities off-campus will likely be less busy and more private than the ones offered on-campus. Consider your personal wants and needs and ask about the amenities offered before signing your lease.
Roommates
As mentioned before, roommates will affect the cost of your living situation. If you prefer to live by yourself, you should be willing to pay more in rent. If you have roommates or want to find roommates, you will likely pay less in rent. Definitely be sure to get to know your roommates before moving in with them. Ask questions about cleanliness, class/work schedule, smoking and drinking habits, financial standing, how often guests will be over and sharing space and things around the common area.
Now that you know about some of the factors that come with student housing in the US, you can start looking for your home away from home!
6 Responses to "Student Housing in the US"
Leave a Reply