Posted on July 6th, 2020 by Connor Blay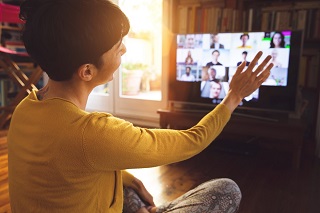 Whether you're starting out your summer or gearing up for winter, it's clear that this season will be one characterized by COVID-19 and you may not be able to connect with others in person. The lack of social gatherings has probably left you saying "I'm bored" more frequently than you'd like to admit. Fortunately for everyone, there are alternatives for connecting during COVID that will make this pandemic easier to deal with. It might be good for you to get more active on social media, handwrite a letter, use video chat or have a streaming party to keep this season interesting.
Ways to Connect on Social Media
Keeping in touch with friends and family has been made easy through social media. With about 2.95 billion people from all over the world using social media, chances are that you're one of them. During COVID, you might want to get more active on social media and make valuable connections with others. Each platform can be used to connect in various ways that you may not have thought of before:
Facebook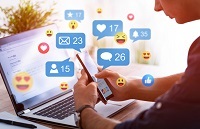 Messenger allows you to start conversations and even audio or video call. Try starting a group chat with friends!
Joining a Facebook group that interests you can result in new friendships. Think of these as an online community with an ongoing conversation with people who share your interests. For example, our International Student Community is a group where you can meet and chat with other international students.
Twitter
Most people get on Twitter to stay updated on current trends and events but it's also a great place to start or join a conversation on daily news topics.
Get a Twitter group chat going so you can share your favorite tweets with friends.
Instagram
A great place for life updates. Consider posting one picture per week to keep your followers updated on what you've been up to during quarantine.
Lots of Instagram users have been 'going live' to have chats with followers. Try it out!
The influencer universe on Instagram just keeps growing. This might be a great time to start a brand for yourself and/or gain followers.
TikTok
This platform has quickly grown into a large and diverse community for video content creators. Get on TikTok and start creating your own content.
TikTok challenges like the #Savagechallenge are blowing up right now. Do a collab with a friend or do it separately to see who can get the most likes.
Handwrite a Letter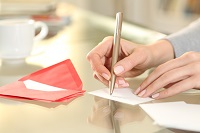 These days, we have the world at our fingertips with technology that can put us in contact with anyone from around the world in seconds. But handwriting a letter to a friend or a loved one is an excellent way to show just how much you care. Handwriting a letter takes more effort than reaching out digitally and that will likely be more appreciated by your recipient. Here are some ideas to get you started:
Talk about what your days in quarantine have been like.
Reflect upon a happy memory with whoever will be receiving the letter.
Write about how school is going.
Give some words of encouragement to get through these tough times.
Share what your plans are for the future.
Video Chat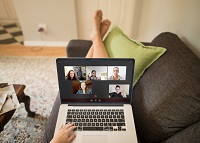 With web conferencing apps like Zoom being the talk of these times, it's likely that you already have an account. But how can you use Zoom to connect with your friends?
Have a Zoom party: Depending on where you are and what you're comfortable with, you might not want to get together for drinks in person just yet. So pour a glass and have a virtual happy hour with a group of friends (only if you're of legal drinking age of course).
Host a trivia night: Put together some questions and see who out of your friends is the trivia champion. You can make teams or do it individually.
Host a book club: Create a list of books to read every month. Video chat once a week to discuss the reading.
Attend a virtual concert: Musicians have had to cancel any upcoming concerts due to the pandemic but some concerts and festivals are still happening online. Check to see if that show you wanted to see this year will be streamed online instead.
Have a group workout: Staying in shape without a workout partner might be hard but you and your friends can hold each other accountable by having group workout sessions through Zoom.
Streaming Party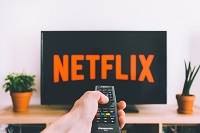 Miss watching things with your friends? Well, Netflix is now offering Netflix Party for free! All you have to do is sign up and you can watch shows and movies with friends simultaneously. It even has a group chat feature so you can chat about what you're watching among yourselves.
If you and your friends are more into streaming music, Spotify has a collaborative playlist feature. With this feature, you can create a playlist in collaboration with any other Spotify user and listen together.
Who knew we could do so much together without physically being together? Hopefully, these ideas will have you saying "I'm bored" a little less frequently as we continue to push through COVID-19.
No Responses to "Connecting During COVID-19"
Leave a Reply