Posted on July 24th, 2020 by Luke Clausen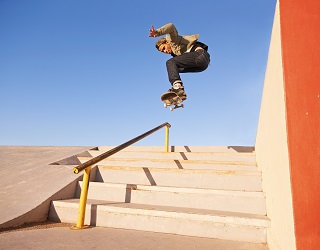 Skateboarding took off in the United States in the 1970s, and was popularized by surfers in California. Since then, skateboarding has evolved in many ways; the culture, equipment, aesthetics, styles, and realm of possibility constantly grow and change. In the early days, skateboarding was very underground, and didn't take off and start to penetrate pop culture until the 2000s. When a skater meets another skater, they automatically have a shared culture and history which can often instantly create an irrefutable bond. If a skater is new to a city and doesn't know anyone, he or she can go to a local park or spot, and make a new friend almost instantly. As a skater, I've personally had repeated sessions with the same person without even learning their name; skating is a language of its own. Instead of calling each other by name, skaters often identify each other by style and trick selection, and communicate by skating the same obstacle together and inspiring each other to learn new tricks.
The Community
Something that has emerged fairly recently in the skate community is the presence of online communities of skaters that are fascinated with certain companies, types of skating, styles, and scenes associated with various eras in skate history. I personally have met with people from all around the US and other areas of the world simply because we skate similarly and have similar interests within the world of skating. I now interact with these people often, and get excited and inspired when I see that they've learned a new trick, even if it's a trick I've seen done a thousand times by others. Within these communities, the skaters all interact with each other, inspire and are inspired by each other, and can offer support when necessary. These communities are often global, and are great ways to get to know like-minded people from all around the world. Skaters look out for each other, and are always excited to show other skaters from out of town all the spots around their city, introduce them to all their friends they skate with, and give them some of the merchandise from their favorite local companies.
The Famous Locations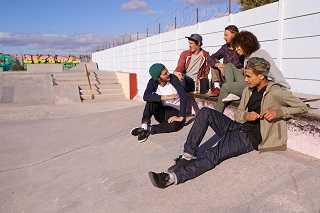 Just about every skateboarder has dreamed of visiting the iconic spots that he or she has seen in all the famous videos and photos that define the culture. Many of these spots have been a key part of skateboarding's culture for decades, while many are newly discovered, but catch a skater's eye as the perfect place to do a trick. Skaters often travel great lengths for just a few certain spots. Since skateboarding originated in the United States, and so did much of the culture, just about every state is associated with some iconic spots that skaters will travel from all over just to get a few tricks on, and many states, such as New York and California, are associated with hundreds. Here are three of the most famous places for skateboarding in the US that you should check out if you have the chance:
Brooklyn Banks – The Brooklyn Banks have been featured in many iconic skate videos since the 1980s. Since the mid-2010s, the area has been closed to the public due to construction, and in 2020, the bricks that formed the surface started being removed. Many skaters were worried that this piece of history would be destroyed, so they created a petition to save the spot that was signed by more than 40,000 people.
Hollywood High School – This is one of the most famous spots in Los Angeles. The high school is full of gaps, sets of stairs, and more, but the most famous feature and the one that attracts skaters from all over the world is the 16-stair with a handrail, nicknamed the Hollywood 16. It may not look like much, but, since LA has always had one of the largest and most influential skate scenes, many legendary tricks have been filmed at this spot, and for a skater, just seeing it is a treat.
Pier 7– Pier 7 is in San Francisco, California, and is one of the most easily recognizable spots in all of skateboarding. While it may not look like anything more than a few ledges, just about any skater would recognize it instantly. Many know it as the place where Stevie Williams filmed as a young kid in the 90s.
No Responses to "Skateboarding in the US"
Leave a Reply