Posted on July 2nd, 2020 by Connor Blay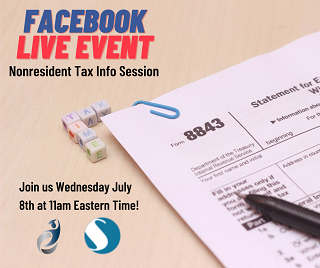 Calling all last-minute tax return filers! Next week on July 8th at 11am Eastern Time we're going live on Facebook with our friend Neil Duffy from Sprintax. If you lived in the US as an international student in 2019, you're going to need to file Tax Form 8843 regardless if you earned income last year or not, and Tax Form 1040NR or 1040NR-EZ if you did earn income. The IRS's tax return deadline is July 15th this year so there's not much time left to get your forms filed and mailed in. You don't want to miss this event as we'll be giving important information on the US tax filing process covering topics like:
Changes due to COVID-19
Amended tax returns
Filing requirements
Tax deductions
If you have any questions regarding filing nonresident US tax returns, have them ready for this event as you'll have the opportunity to ask any questions you may have. In the meantime, you might be able to find some answers within our Student Tax Return resources center.
Be sure to log on Facebook and head over to our page at least 5 minutes before the event begins at 11am Eastern Time. Also, let us know you're going to make it to the livestream on the event page. We hope to see you online!
No Responses to "Facebook Live: Nonresident Tax Info Session"
Leave a Reply