Posted on June 15th, 2020 by Connor Blay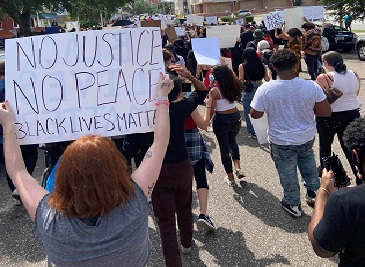 Today marks the fourth week in a row of anti-racism demonstrations in the US and around the world. These demonstrations are a direct result of the deaths of a number of unarmed Black people at the hands of US police, not just recently but throughout history. However, the video of George Floyd was a clear turning point. Since the George Floyd video surfaced on May 25th, protesters have been occupying the streets, demanding justice and change. At InternationalStudent.com, we firmly stand behind equal opportunity and the First Amendment right to assemble and to have voices heard by government officials and lawmakers. 
We recognize that international students have been and will likely continue to participate in demonstrations across the US. To those of you who have joined the peaceful protests, we certainly don't want to discourage you from making your ever-important voices heard. However, we want to help ensure your safety. There is some misinformation out there but let's be clear: as an international student in the US on a visa (F-1, J-1, etc.), you are protected by the US Constitution's First Amendment. Even though you have the constitutional right to protest, you should always be aware that there are risks involved with protesting as a non-US citizen. Knowing your rights is the first step in protecting yourself should you decide to attend an organized protest.
What Are Your Rights as an International Student in the US on a Visa?
The right to free speech: The First Amendment of the US Constitution protects your right to free speech on US land, regardless of your immigration status.
The right to refuse unlawful searches: Officers do not have the right to search you or your belongings without reasonable suspicion. You can refuse an unlawful search at any time without consequence.
The right to refuse to show ID: If you are asked for ID, you are not required to show it. It's a good idea not to bring an ID showing your immigration status or home country so if asked by law enforcement "Do you have ID on you?" you can simply say "No, I do not."
The right to speak to a lawyer: Should you be taken into custody by an immigration officer, you have the right to speak to a pro bono lawyer regarding your situation. They can help you navigate tricky US law and protect you from having your rights violated.
The right to remain silent: While in custody, you have the right to remain silent, meaning you legally do not have to say anything to an immigration officer regarding your immigration status.
Your Two Main Risks
Arrest: While protesting, you could be arrested, however, this does not necessarily mean you have done anything wrong or will face charges. If you are arrested, request a list of pro bono lawyers who you can speak to. Do not sign anything without a lawyer. You are not required to sign any documents without a lawyer present.
Immigration consequences: If you are charged and convicted of a crime as a result of being arrested at a protest, it's likely that you will face consequences and could possibly lose your visa status.
What to Do at a Protest
Always go into a protest with the mindset that it will be peaceful as most protests in the US have been. But we've also seen that even the most peaceful protests can take a turn. Be sure to research the organizer of the protest before attending, and to be prepared, consider bringing goggles or glasses. If you don't have them, you'll likely be able to find someone at the protest who does. We recommend that you also:
Bring lots of water and snacks.
Bring a first aid kit.
Wear a mask and wash your hands with hand sanitizer regularly. COVID-19 is actively spreading and you need to take the same health precautions as normal.
Make a sign to convey your message. Writing something short on a poster that gets straight to the point such as "Black Lives Matter" will do but making the message your own will have the greatest impact.
Stay with a trusted person or group of people and do NOT leave the organized group.
In the rare instance you feel that law enforcement has violated your rights, get their badge number and information. Write it down, take a picture or video, whatever you have to do to remember their details as you can file a complaint with the police department afterward.
What Not to Do at a Protest
Do not bring anything illegal such as a weapon, drugs or alcohol.
Do not lie to law enforcement.
Do not give law enforcement false information or documents.
Do not start violence or bring unnecessary attention to yourself as this puts you at risk of being arrested and charged for a crime.
Please note that we are not lawyers and again, if you find yourself in a situation where you need advice on the law, you should contact one immediately.
Reference used: For Non-US Citizens: Know Your Rights While You Protest! by National Lawyers Guild of Chicago