Posted on June 10th, 2020 by Connor Blay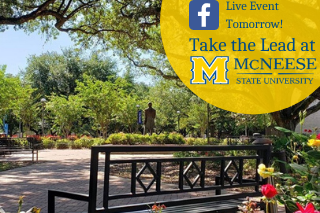 This is your friendly reminder that tomorrow at 11:00am Eastern Time, we will be on Facebook Live joined by McNeese State University. Director of International Programs, Preble Girard sat down with Andres Arias and Saurav Sharma, two of McNeese's international student leaders.
About Andres

Andres is an international student originally from Cali, Colombia. He was a mechanical engineering major at McNeese who took over the student body president position within the Student Government Association during his senior year.
About Saurav

Saurav is an international student originally from Kathmandu, Nepal. He was also a mechanical engineering major in the Student Government Association who assumed the role of treasurer during his senior year.
These two will be sharing how their experience as international student leaders on the McNeese campus has prepared them for their futures. They'll be showing you how you can also take the lead as an international student. Make sure to be on our Facebook page at least 5 minutes before the event begins at 11:00am tomorrow. Hope you can join us!
No Responses to "Facebook Live: Take the Lead at McNeese State University (Reminder)"
Leave a Reply