Posted on May 5th, 2020 by Connor Blay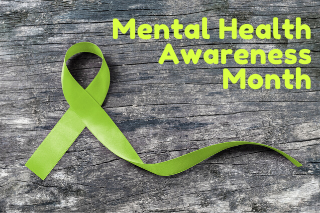 Created in 1949 by the Mental Health America organization, Mental Health Awareness Month is a time to recognize issues surrounding mental health worldwide. According to this organization, 1 in 5 people will experience a mental illness in their lifetime. Among international students, studies from recent years show that mental illness is even more common. As a student outside your home country, you'll face additional stress such as cultural shock, homesickness, language barriers, etc. However, research shows that international students are less likely to seek help when it comes to their mental health than domestic students. Why is this? Experts think it could be a number of reasons including stigma but ultimately the main reason is many are simply unaware of the mental health resources that are available. While we're in this difficult time, it's essential to confront mental health as an issue for yourself and those around you. In this blog, we want to offer some useful information, coping tips, and resources relating to mental health.
Common Mental Illnesses & Symptoms Among College Students
The first step in confronting mental illness is identifying symptoms. Bear in mind that we are not mental health experts nor medical professionals and therefore cannot diagnose or recommend treatment. This list is just to show you the mental illnesses that you could experience during your college years and symptoms to look out for:
Addiction – Dependence on alcohol and/or drugs.
Anxiety Disorders – It's perfectly normal to experience anxiety in everyday life. But extremely heightened feelings of stress, fear and worry might be signs of an anxiety disorder.
Depression – People with depression (known medically as major depressive disorder) will often experience mood swings and intense feelings of sadness and loneliness. Other more serious symptoms include loss of appetite and unwillingness to go about everyday life.
Eating Disorders – There are a number of eating disorders that exist such as anorexia, bulimia and binge eating disorder. Unrealistic body image perception, starving oneself, eating too much and purging food are all symptoms commonly associated with eating disorders.
Sleeping Disorders – College students study for long and tireless hours, sometimes neglecting sleep when pulling an "all-nighter". These kinds of habits can lead to sleep disorders like insomnia which is the inability to sleep at night on a regular basis. In addition, not getting enough sleep can increase the likelihood of depression and anxiety.
Coping Tips
While seeking treatment for mental illness is something that we recommend, it's a good idea to use coping methods to get through the days. Here are some easy ways to help cope with mental illness:
Meditate: Taking time to center yourself regularly can help ease anxiety and negative thoughts. Just take a deep breath for 5 seconds, hold it in for 3 seconds, then let it out for 7 seconds.
Look within yourself: Ignoring your emotions is never the answer. Always be self-aware and take any emotional distress seriously. Even taking just a few minutes to get to the root of a problem can help you create a plan of action to solve that problem.
Exercise: Being active improves self-esteem. Science says that the release of endorphins in your brain can boost your mental state.
Reach out to friends and family: Having a reliable support system is essential to coping with mental illness. Don't be afraid or embarrassed to reach out to friends and family. Chances are they may even be able to relate to you.
Mental Health Resources for International Students
Since we've seen an increase in the number of college students with mental illnesses in recent years, colleges, universities and organizations have been innovating ways to combat the mental health crisis. We've put together a list of some resources that you can take advantage of if you need support:
International Student Insurance's Emotional & Mental Health Awareness Page: During this period of isolation, you may experience stress in a way that you've never felt before. It's perfectly normal to feel this way but if you see your mental health begin to deteriorate, you should consider reaching out for support. This page has great information as well as links to several mental health resources for international students.
College/university resources: If you are enrolled at a college or university in the US, your campus more than likely has several mental health resources available. Some of these resources are built specifically for international students and are offering services remotely. Check your school's website to find out more about mental health resources that are available from your school.
Therapy/Counseling: Talking to a therapist or counselor has been proven to help treat mental illness. Your school may offer these services for free or at a reduced fee. It's a good idea to check the counseling center to see if these services are available. If your school does not have a counseling center or if you want to get help off campus, your health insurance may cover your visit. Many international student insurance plans include coverage for mental health, and if you are looking for a plan with mental health, you can compare insurance options at ISI.
National Suicide Prevention Hotline: If you're in the US and you have suicidal thoughts, you can call the National Suicide Prevention Lifeline for free and confidential support 24/7. You can reach them at 1-800-273-8225.
International Suicide Hotlines: A list of hotlines by country for students not located in the US.
The Trevor Lifeline: Counselors are trained to support members of the LGBTQ community. You can call the lifeline at 1-866-488-7386 or text 202-304-1200.
SAMHSA Hotline: SAMSHA offers support to those who are dealing with a substance use disorder. You can call them at 1-800-662-4357 for free and confidential support. Services are available in English and Spanish.
In the case of a life-threatening emergency, call local emergency services immediately.
Please note that we are not certified psychologists and cannot provide counseling. But if you need help, we can definitely point you in the right direction. Take care of yourself, everyone!
10 Responses to "May is Mental Health Awareness Month"
Leave a Reply