Posted on April 27th, 2020 by Connor Blay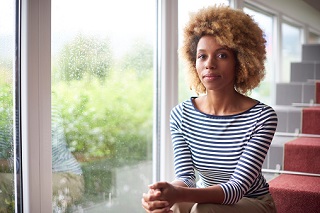 Before Coronavirus (COVID-19) was declared a pandemic by the World Health Organization, many higher education institutions examined how to handle the situation. Several administrators at higher education institutions were left asking questions such as "Should we cancel in-person classes?" and "Do we need to move to online-only instruction?". By March 9, 2020 the Centers for Disease Control and Prevention (CDC) advised higher education institutions in the US to "Consider postponing or canceling student international programs." Since then, we've seen most programs do just that. The vast majority of institutions have moved to remote online education to slow the spread of the virus on college campuses. International offices all across the US and the world have moved to remote locations in order to serve students from a safe physical distance. All of this left the team at InternationalStudent.com wondering what administrators in university international offices planned to do at this time. So, we reached out to a few and can now share some of those plans with you all. Keep reading to learn more about online education, university resources, and test-taking alternatives available to international students during the COVID-19 pandemic.
Online Education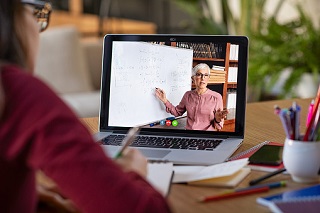 By now, if you are a student living in the US, you are most likely attending classes online via Zoom or another web conferencing service. When plans to move to online classes were first announced, many international students voiced their concerns about losing their visa status. Many wondered if they would even be able to finish out the Spring 2020 term. We've since learned that accommodations have been made for students in this circumstance. Students all over the world are now turning to online education options in order to reach their education goals.
Changes to F and M Visa Regulations
In the past, access to online or distance education has been limited for F and M visa students living in the US. As most of you already know, international students living in the US on an F-1 visa have traditionally only been allowed to have one online course count as credits towards their degree. On March 9, 2020, the US Department of Homeland Security (DHS) sent out a message saying that there would be new adaptations to regulations for both F and M nonimmigrant students. In the statement, DHS addresses schools that are certified by The Student and Exchange Visitor Program (SEVP): "SEVP-certified schools may need to adapt their procedures and policies to address the significant public health concerns associated with the COVID-19 crisis… If a school determines that it will exercise temporary closure or make other significant operational or curricular changes, the school must advise SEVP of accommodation it is making for its F and M nonimmigrant population." In other words, SEVP schools are required to accommodate F and M visa students if they are moving to online education at this time. Visa status cannot be taken away from international students because they are taking online courses.
Higher Education Services are Going Remote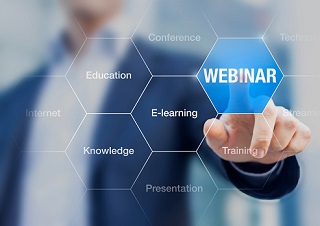 COVID-19 has left most admissions teams and administrators working from their home offices. Not working from campus has forced these teams to be creative and come up with ways to best serve students remotely. InternationalStudent.com has reached out to several schools we work closely with to find out what resources they will be offering at this time for international students and here are a few accommodations that are being made:
South Dakota School of Mines & Technology (SD Mines)
SD Mines is now doing virtual campus tours and admissions/department meetings through Zoom! Prospective international students can see the aerial view of campus as well as spots on and off-campus. If you would like to meet with an admissions counselor, sign up for a Zoom conference and a counselor will meet with you 1-on-1 to answer any questions you may have about the admissions process at SD Mines.
Felician is providing very similar resources. There are several ways to get in touch with admissions virtually. You can schedule a one-on-one chat through their Admission Counselor Virtual Appointments and you can message them on WhatsApp for personalized assistance.
Valencia has come up with a variety of admissions accommodations for prospective international students at this time:
Accepting Duolingo English Test as proof of English proficiency for admission (minimum score 75)
Extending their application deadline for the Fall 2020 term to July 15th (classes begin in August)
Live chat available on their website Monday – Friday from 9:00am – 5:00pm ET.
Hosting virtual Q&A sessions on Instagram – be sure to follow them to see the latest updates @StudyinOrlandoFL
Offering more scholarship opportunities for fall, stay tuned!
Maryville has created a page with information regarding COVID-19 and how it impacts current and prospective students.
Chemeketa has a dedicated page for the COVID-19 situation. They have moved all courses online for current students and want students to know that if they are overseas, they can actually apply and register to do their education online.
University of the Incarnate Word
University of the Incarnate Word has launched its own virtual campus tour.
McNeese has come up with a virtual campus tour made by a current student which you can find on their YouTube channel.
Clarkson is hosting an online info session for international graduate school applicants.
West Georgia International Student Admissions & Programs has just rolled out a virtual chat box that is live on their website. This chat box will allow current and prospective students to chat with them in real time during their normal operating hours vs. the time delay of email.
Rochester Institute of Technology (RIT)
RIT is allowing prospective students to register for a virtual campus tour. In addition, RIT is offering informational webinars for prospective graduate students. Online info sessions for undergraduate students are also in the works so keep an eye out for those.
Mount Union has announced a COVID-19 Student Emergency Fund to aid students who are in need with expenses related to COVID-19.
Bowling Green State University
Bowling Green is currently accepting scanned documents for applications and deadlines for applications and scholarships have been extended to July 15th for the Fall 2020 term.
Test-Taking Alternatives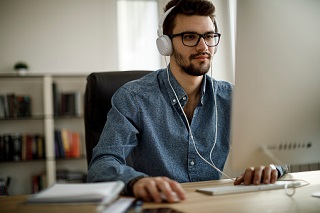 Another aspect of the international education system that is being directly impacted by COVID-19 is test-taking for admissions requirements. English proficiency exams like The Test of English as a Foreign Language (TOEFL) and The International English Language Testing System (IELTS) have been traditionally offered in-person. The English Testing Service (ETS), the company in charge of TOEFL testing, and IELTS announced that the administration of these exams in person would be suspended due to COVID-19. Additionally, ACT Inc., the company in charge of the ACT college admission exam announced the cancellation of all exams until June. The College Board, the company in charge of the SAT college admission exam announced that all exams will be cancelled until August. Then, what should students do now that these exams can't be taken in-person?
TOEFL
ETS has launched testing at-home as of April 2, as reported by ICEF Monitor*. Srikant Gopal, executive director of the TOEFL testing program, said, "We understand the challenges that our test takers are facing worldwide and are pleased to now offer an option to safely test at home without compromising the integrity of our tests." The tests will be powered by artificial intelligence and a live human proctor will supervise the tests remotely. Students can take the at-home test from anywhere in the world except for Mainland China and Iran and can now register to take it a date and time before June. Students should check the ETS website for regular updates.
IELTS
On April 15, IELTS followed suit and announced that their version of at-home testing, called the IELTS Indicator, would be made available to students beginning on April 22. In a statement, IELTS assured that the at-home test would be on the same high-quality level as the traditional test. For the speaking portion, test takers will have a video call with an examiner who will evaluate the test taker's ability to have a conversation in English. Any students living in countries where in-person exams are canceled will be able to take the IELTS Indicator at home. Check the IELTS website for the latest updates.
ACT and SAT
CNN* reported on April 15 that 51 colleges and universities have made the decision to cut the ACT and SAT admission requirements until Fall 2021 or later. As a result, many other institutions are considering doing the same. Our team is closely monitoring this story and we will update you as soon as we have for more information. In the meantime, check the ACT Inc. and The College Board websites for the most recent developments.
International Students Still Want to Study Abroad
It's no secret that international students have been forced to put their study abroad plans on hold at this time. However, in a recent survey reported by ICEF Monitor* shows that international students are still planning to go forward with plans to study abroad in the future. As of March 26th, about 57% of more than 11,000 student respondents said that COVID-19 would impact their international education plans. On the other hand, almost 65% indicated that they would like to defer entry until next year.
This data makes it clear that while plans are being directly impacted by COVID-19 right now, international students' desire to study abroad is mostly still there for future terms. Students with dreams of international education should continue to pursue that goal. Make use of the resources listed above, reach out to admissions staff and do your own research to make sure that you are prepared when your time to study abroad eventually comes. International administrators and admissions staff should continue outreach to prospective students. It's essential to be a resource for the students who need us just as much as we need them during this unprecedented time.
While it's important to utilize the resources and to be aware of the changes outlined above, you should do your best to stay updated on your own. If you have any questions, don't hesitate to reach out to us. We'll do our best to help you through this difficult time. Stay safe and healthy, everyone!
Administrative Resource
For institutions' administrative staff who are looking for ways to serve students virtually, take inspiration from these schools. But we recommend that you also take a look at the list of critical resources put together by NAFSA*. These resources which have updates from SEVP, USCIS, and more will help guide you in making important decisions during this time.
*References
2 Responses to "Updates for International Students During COVID-19"
Kate Hoffmann Says:
May 26th, 2020 at 11:50 am

As an international student I was affected by many restrictions and changes due to the virus, but I am grateful that the university allowed me to finish my studies online.

Connor Blay Says:
June 8th, 2020 at 11:24 am

Hi Kate, thank you for reading! A lot of international students have had to deal with similar restrictions but I'm glad to hear that your university allowed you to finish your studies online. Keep up the good work!
Leave a Reply