Posted on April 22nd, 2020 by Luke Clausen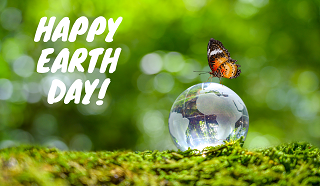 Each year, Earth Day is celebrated on April 22nd to remind us of the environmental issues that face the world we live in. The holiday was officially created when a US Senator named Gaylord Nelson witnessed an oil spill in 1970 and decided that he wanted to create awareness for environmental issues. That makes this year the 50th anniversary of the holiday! Nelson attempted to initiate environmental reforms for years but struggled to gain interest from fellow politicians, so he turned to the general public and created Earth Day as a vehicle for the common person to speak out about their environmental concerns. This holiday has made a huge impact on the way we think about the environment today, and on our efforts to conserve it.
Celebrating Earth Day
There are a number of ways to celebrate Earth Day, but they all revolve around the same general principle: respecting your planet and acknowledging the responsibility you have to do so. However, while they may not be aware of it, people tend to make the mistake of celebrating Earth Day and then thinking that they've done their duty when it comes to helping their planet. Earth Day should not be used as an excuse to ignore the Earth for the rest of the year, but should be a day dedicated to spreading the message that these conservation efforts should be ongoing; it should act as a New Year for you, a day where you create resolutions to live by for the year to come. While this year we're celebrating Earth Day in isolation due to COVID-19, these are some of our suggestions for things you can do to make an impact both today and in the days to come:
While inside, create more sustainable use patterns, such as taking shorter showers, turning off the lights, only washing dishes and doing laundry in bulk, driving less, or using a surge protector for your electronics so you can turn them all off at once when you're not using them.
It might be a good idea to put together a plan of attack, an outline of the actions you'll need to take moving forward because it will take a little while for them to become habitual.
If you're an international student, starting an environmental committee at your school is not only a great way to help out, but it is a great way to start building a community, and hosting an Earth Day celebration would be a great way to gain this committee more recognition.
You could even try to convince your school administration to join in the awareness effort if they haven't already. Also, let officials within the government know how you feel about environmental issues. You can call legislator's offices or write them an email or letter.
Be active digitally. We don't recommend leaving isolation for Earth Day demonstrations this year but you can spread awareness on social media and video chat with others who are celebrating.
Why You Should Care: Statistics
There's Still Hope
Thankfully, not all is lost. There is still a lot you can do to help your planet, but you'll need to start acting now. Have this Earth Day be a turning point for you, a day where you commit to giving back to the planet that has given you so much. Don't just hold yourself accountable; hold your friends and family accountable for taking steps to better our world's climate. Happy Earth Day!
No Responses to "Happy Earth Day 2020!"
Leave a Reply