Posted on November 1st, 2019 by Connor Blay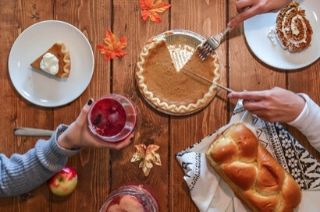 November is here which only means one thing to people in the US: Thanksgiving is just around the corner! Ahh, the great tradition of stuffing your face with American comfort food while spending time with your loved ones. Think of a juicy turkey, creamy mashed potatoes, baked stuffing, crispy bread rolls, and flavorful veggies drowning in delicious brown gravy. If that doesn't have your mouth watering, then maybe a few days off from school will get you excited to celebrate this great American holiday.
But, more than just a bonafide feast and a well-deserved vacation from school, Thanksgiving is the American tradition that gathers friends and family around the table to come closer together. As international students, a lot of you might not have the luxury of being with your family on this holiday. But, that shouldn't stop you from joining in on the celebration. Due to the high cost of airfare, even domestically, American college students have taken it upon themselves to adopt a holiday called "Friendsgiving". While Thanksgiving is a time meant to be spent with your family, Friendsgiving is a time meant to be spent with the many friends you've made during your studies.

Wondering how to throw a successful Friendsgiving in your apartment or dorm? Here are some steps you can take to ensure the celebration will be one to remember:

Send out your invitations. You can make your own printed invitations if you're feeling extra creative, but making a Facebook event or sending out a mass text to your friends letting them know the time and details of your Friendsgiving will work just fine.
Decorate. We are in the fall season, so decorating with shades of browns and yellows will have your place looking festive. We recommend throwing in a few decorative leaves and turkeys here and there too. You can even decorate for fall on a budget by gathering colorful leaves and acorns right outside.
Turn on the Macy's Thanksgiving Day parade before dinner. The annual Macy's Thanksgiving Day parade provides a couple of hours of entertainment for your guests with extravagant floats and talented performers. So, make sure your TV is on NBC.
You're going to need food. Lots of food. And, drinks too. Whether you want to make a traditional American Thanksgiving dinner or whip up some of your home country's cuisine, just make sure that you have enough to feed all of your guests… and then some more for leftovers. To help share the burden of cooking you can turn your Friendsgiving into a potlock; this will also give everyone a variety of tastes from around the world if you invite other international students.
Lastly, bring something to talk about to the table. Friendsgiving is about connecting with your friends and growing a tighter bond, so make sure the conversation stays moving and lively. One great ice breaker is to have everyone share what they're thankful for on this holiday.
If you follow these five steps, your Friendsgiving celebration will be a guaranteed hit!
No Responses to "Thanksgiving + Friends = "Friendsgiving""
Leave a Reply