Posted on November 8th, 2019 by Yessica Prato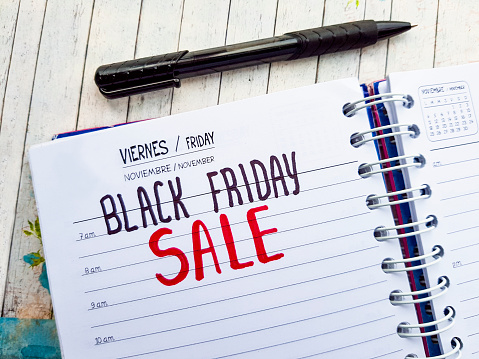 There are different traditions unique to the United States but none is as peculiar as the day after Thanksgiving. Known as "Black Friday," the day after Thanksgiving marks the beginning of Christmas shopping season in the US. The term "Black Friday" seems to have originated from Philadelphia and it describes the heavy and disruptive pedestrian and vehicle traffic post-Thanksgiving day. Many retailers will open their doors as early as 4pm on Thursday, Thanksgiving day and stay open until 11pm the next day, on Friday.

As an international student, if you are staying in the US during the Thanksgiving break, we encourage you to participate in this tradition. No, we aren't talking about going and buying unnecessary things at your local shopping mall. However, it is fun to participate in the craziness that is Black Friday shopping at least once. Here are some tips to help you enjoy this unofficial holiday:

Tip 1 – Have a proper Thanksgiving Day!
Year after year, it seems that retailers want everyone to skip Thanksgiving and go right into the buying. I believe that the beauty of the holidays is knowing how to enjoy each of them one at a time. Don't fall prey to retail merchants and skip your turkey and pumpkin pie! Have a proper Thanksgiving meal with one of your new American friends and their family. Thanksgiving Day is a time to be with family and friends and enjoy a great meal. Resist the urge to go early as those workers also deserve to be with their families during Thanksgiving.

Tip 2 – Preparation is key
Any seasoned Black Friday shopper will tell you this, preparation before the actual day is key. Many retailers will post on their websites the deals you can expect to see during Black Friday. Sites like Best Black Friday compile a list of ads from the most popular stores. You can download catalogs online and review what type of items will be discounted and by how much. Figure out in advance the following:
What stores do you want to visit?
What items are you looking for?
Are the items really discounted? Or could you find them cheaper after the fact?
Is it something you will be able to bring back home when you finish your studies? If not, will you be able to resell it?
Do stores price match? (many stores will price match items if you bring a print out of other retailers)
Are there any coupons you can print out and take with you to the store? Retailmenot.com is a great site to get coupons for many stores.
Tip 3 – Walk, walk, and walk some more
Prepare to hit your steps goal this day! You will do a whole lot of walking during Black Friday shopping. Traffic and parking will almost be impossible, if you can carpool with a couple of your friends that's even better. As we mentioned before, stores generally stay open all night long (Thursday night to Friday evening) so be prepared to walk around from store to store as you make your way through different shopping centers. Remember when we said you should not skip the turkey? You will need that energy if you plan on shopping for a few hours!

Tip 4 – Grab it but don't buy it!
When you first walk into any store, you will be mesmerized by everything you see. This is exactly what retailers want you to feel! The best way to shop for Black Friday is to grab a cart and place anything you think you might want to buy in it. In some stores you will need to be quick to get to certain deals so placing them in a cart (with a friend to keep watch) is the best way to grab what you want and get out of the way for others to do the same. After you have grabbed everything you think you might want, find a place in the store away from the crowd where you can sort through everything. You'll quickly realize that you actually don't need 3 sets of headphones or 5 pairs of the same type of jeans in the same color. 

Tip 5 – World Wide Web
Nowadays, almost everyone carries a small computer in their pockets. You may or may not know this but the US is truly a country of consumerism. Retailers know that the younger generations have more and more knowledge of the web and for this, sometimes you are able to find deals online that you can order in advance and pick up at the store on Black Friday. If you decide to shop online, apps like Rakuten will help you automatically find discounts or rebates on your purchases!
As if this wasn't enough, they have also created Cyber Monday (and yes, you guessed it, this is the Monday following Black Friday). Cyber Monday deals may not be as great as Black Friday deals but they are nevertheless deals! If you don't want to deal with the frenzy of going to a store on Friday, Cyber Monday is here for you!

Black Friday shopping is one of the most unique traditions of the US. While it could be an expensive tradition for your international student budget, with preparation, it can be a fun night to enjoy with your new friends even if it's just to people watch in the stores or practice your English with the clerks!

One Response to "Black Friday shopping in the US as an international student"
Donna Norton Says:
May 15th, 2020 at 9:01 am

Preparation is key indeed. I never do shopping without any planning, but it's even more important to not lose your head during these sales.
Leave a Reply