Posted on August 22nd, 2019 by Phu Nguyen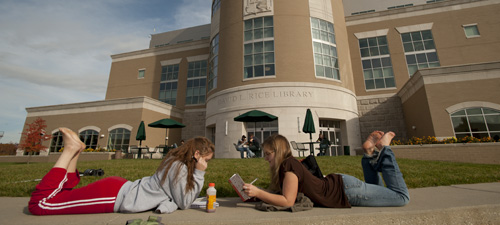 International students who attend the University of Southern Indiana (USI) have many options for becoming involved in campus clubs, activities, and living experiences. From Living Learning Communities to Intramural Sports to Greek Organizations and other clubs, USI provides their international students the ability to branch out and find ways to immerse themselves in campus life. All these activities, clubs, and organizations promote a beneficial study/work/life balance, which is important to maintain in a rigorous academic setting. 
USI provides extensive variety of Recreation, Fitness, and Wellness programs to keep students healthy and active. The USI fitness center not only has state-of-the-art fitness equipment, but also provides:
Fitness Consultations
Three Multipurpose Courts
Climbing Center
Game Room
Indoor Track
A Fitness Lounge
And many more unique features!
The fitness center promotes a fit and healthy lifestyle and proper eating habits. Archie's Food Closet is a service for all students in the USI community where students are able to stock up on nutritious non-perishable food items like peanut butter, soups, rice, and even provides personal hygiene products available as well.
The Recreation, Fitness, and Wellness Center also provides an Outdoor Adventure Program that introduces students to some of the beautiful scenery surrounding the USI area. It is a great way to appreciate the environment while taking a break from everyday classes and studying. Activities and trips include:
Whitewater rafting & Camping
Caving Trip
Fall Hiking & Camping
Low Ropes Course
Finally, USI also firmly believes wellness extend beyond physical and is a multi-dimensional state of being. They provide services and programs that cater to all types of wellness, including:
Emotional
Financial
Social/Cultural
Environmental
Occupational
Spiritual
Intellectual

USI provides students the tools and resources to further their academic studies along with a work/life balance. International students can rest assured that USI will provide abundant options for students to tend to their health and well-being needs through extracurricular activities and by setting up everyday healthy lifestyle habits.
No Responses to "Healthy Habits at the University of Southern Indiana"
Leave a Reply