Posted on July 24th, 2019 by Phu Nguyen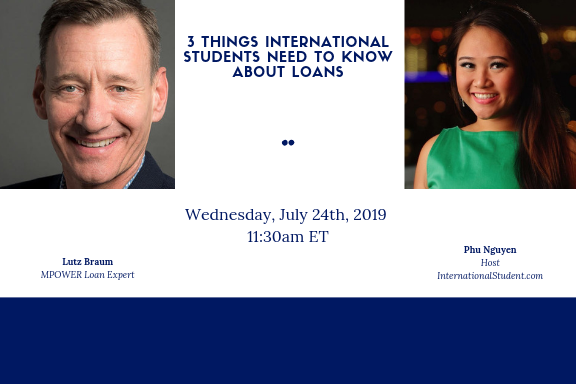 Tuition fees are inevitable for international students. Although you want to exhaust your grant and scholarship opportunities, many students end up relying on loans to fund the financial gap. Finding the right loan for you can be a daunting task, but InternationalStudent.com has teamed up with a lending expert to talk about some common loan concerns, as well as answer live audience questions. Join us for a Facebook Live Event with MPOWER.
For additional loan concerns and further guidance, MPOWER is a responsible source of help. Students can now receive loans without a cosigner at select schools in both the USA and Canada. Rated the top international student lender, MPOWER enables students from around the world to meet their academic goals through lending and mentorship.
Join InternationalStudent.com and Lutz Braum on Facebook TODAY at 11:30am EDT for our live stream, answering the most pressing questions international students have about loans. To join the Facebook Live Event With MPOWER, visit our Facebook page at the scheduled time or a few minutes before we air to watch, listen, and ask!