Posted on June 7th, 2019 by Phu Nguyen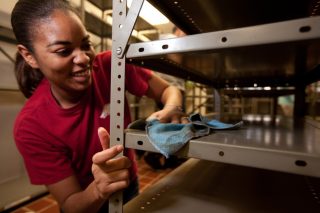 It is an extremely difficult transition for an international student to move to a new country far away from friends, family, and familiar customs that one has grown up to know. You're learning to adapt to new cultures and customs, all while keeping a major focus on academics. After a long day of classes and studying, you find yourself with very limited leisure time and left with the question of how to fill that time. You may want to consider spending your spare time volunteering. For many reasons, this would benefit you and the community around you.

Volunteering locally is a great way for international students to immerse themselves in their new country and culture, and a fantastic way to meet new people. Since volunteering is often done in groups, you would be surrounded by people that likely have similar interests or values as yourself. Even better, these are presumably people that live in your surrounding area, so the potential to meet a new pal is even higher. No matter where you decide to spend your time volunteering, you are bound to learn something new about your community, yourself, and your teammates.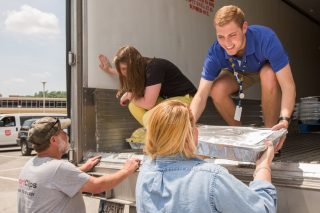 Oftentimes, volunteering experience can be just as advantageous on your résumé as a paid position. Gaining experience in your field can be done through avenues other than employment or an internship. if you are studying to be a veterinarian, try volunteering your time at a local animal shelter. This will give you the know-how you need in the field you want to pursue.

If you don't know exactly what they want out of the future, volunteering is a great way to stumble upon your passion. Volunteering gives you the flexibility to try out several different things that might enthuse you. Students at the University of Arkansas have benefited from the many volunteer options the school has available. Thanks to their Volunteer Action Center (VAC), students can choose to dedicate their spare time to many unique causes that include but are not limited to:

Dream B.I.G. (Believing in Girls): This program aims to empower young girls, through mentorship, by encouraging them to overcome adversity in their community and embrace their unique qualities.
Razorback Food Recovery: A student-led program that works to recover surplus food and redistribute it to those in need – including students. Since the program began in 2014, student volunteers have recovered enough food to provide over 100,000 meals to those in Northwest Arkansas.
P.A.L. Program (Passionate About Learning): A free, student-led mentoring program that partners with Fayetteville Public School District, whose mission is to create personal and intellectual growth for both college-aged and elementary students through meaningful relationships, stimulating curriculum, and an alternative learning experience.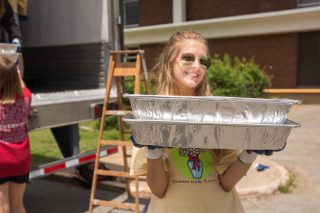 Like the options University of Arkansas, there are several paths and passions an international student can embrace in their quest to volunteer, and all of them will be worthwhile. Decide that you want to give of your time and then decide where. It's as simple as that – much easier than some of your courses will be!

6 Responses to "Why International Students Should Spend Time Volunteering"
Leave a Reply