Posted on February 22nd, 2019 by Sutherland Beever
The United States is a pretty big country, meaning your travel budget can quickly diminish if you aren't careful. Lucky for you, this blog will outline the cheapest ways to get across the US without breaking the bank – including transportation and housing options, along with fun entertainment ideas.
Transportation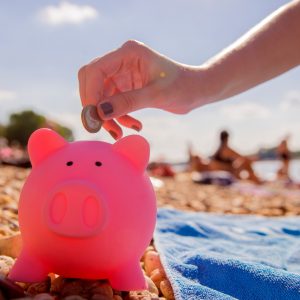 Trains and buses – Both of these options are very cheap and great options if you need to travel long distances, although buses are also a great option for local transportation too. Granted, busses and trains may not be the fastest mode of transportation, but they will offer great views and the opportunity to meet tons of new people!
Cars – Renting a car will ultimately give you complete control over your travels, but can be a more costly mode of transportation (and you have to be 21 to rent a car in the US). If you'll be traveling with multiple people, splitting the cost of the car and insurance can help ease the blow to your wallet.
Ridesharing – this is a great option if you're in a city or need to go somewhere relatively close (the further you need to travel, the more expensive the cost), and don't mind carpooling with someone new. There are a TON of good ridesharing apps out there, including Uber, Lyft, Gett and Juno.
RV's – While not the most economical option when traveling long distances, renting an RV serves both as a mode of transportation and a place to rest your head, which ultimately could save a lot of dough (AKA money). There are many places across the US that will allow you to park for a minimal fee or even free.
Tip: StudentUniverse is a great resource to find discounted student student flights, tours and hotels conveniently online.
Housing
Couchsurfing – When it comes to cheap housing when traveling across the US, it doesn't get any better than free. Couchsurfing traditionally comes at no cost and offers a real local experience, given that you'll literally be staying on a local's couch. This form of housing is very intimate and can offer a real local experience.
Airbnb – Created in San Francisco, Airbnb is the way to go for most travelers. It's convenient, affordable and offers the opportunity to rent really cool homes, apartments or single rooms, depending on your needs. Perhaps best of all, you're renting directly from the owner of the property, who serves as your host. Given that your host is a local, he or she can give you suggestions for the best restaurants and entertainment nearby.
Camping – We'll admit it, this may not be the most glamorous way to spend the night while on a road trip, but it will definitely offer an experience to remember! There are countless campsites scattered around the US and some even offer the ability to rent tents on site, negating the need for lug one around with you. Besides, camping in the US generally comes hand in hand with a wonderful invention called the smore. If you haven't heard of it, melt a marshmallow on the fire, top it with half a bar of chocolate and stick it between two gram crackers. You can thank us later!

Hotels – Hotels in the US can range in price greatly and generally you'll "get what you pay for." If you decide to go this traditional route, be sure to check out companies like StudentUniverse to search for some great deals.

Entertainment
National Parks – The United States has countless national parks just waiting to be explored. Generally you can pay either per person or per vehicle, and oftentimes there are places to camp or park your RV as well, allowing you to enjoy the park for more than just a day. If you'll be traveling across the US, consider purchasing an annual pass, which will grant access to all national parks, wildlife refuges and national forests.

Free Attractions – Many larger cities offer free attractions for anyone who would like to experience them – like zoos, museums, tours, monuments, memorials. Before arriving in a city, spend a few minutes on Google searching for free activities. You'll likely be surprised at what the city offers!
Sightseeing Passes – When visiting a city with several attractions you'd like to see, consider purchasing a sightseeing pass. Not only will you likely be able to skip the line when going on tours, you'll pay a discounted rate for the attractions and in most cases will be offered special food and shopping discount.

Discount Attractions – Websites like Groupon offer great discounts on city tours, food, and a variety of fun entertainment. They can come in handy if you already know what entertainment you'd like to experience in a city and are looking for a discount, as well as if you're still trying to figure out what the city offers.

TIP: An International Student Identity Card, or ISIC for short, is the only internationally accepted proof of student status and can help you receive deep discounts on food, entertainment, travel and even clothes. Click here to apply for the card online.
Hopefully this list of ways to travel the US on a budget is helpful, and if you have any additional tips for fellow international students, leave us a comment!

2 Responses to "How to Travel the US on a Budget"
mutwakil yousif mustafa Mohammed Says:
March 7th, 2019 at 5:52 am

Application for refugee budget to study in US

Wojtek Says:
March 9th, 2019 at 2:11 pm

Wonderful, thanks! Travelling US on the cheap may sound like a pipe dream, but this looks very much manageable
Leave a Reply