Posted on February 8th, 2019 by Phu Nguyen
Below is the second blog update by Mariana Barbosa, InternationalStudent.com's 2018 Travel Video Contest winner. Mariana is now studying Canada. You can track her journey by checking our blog throughout the year. 
I admire anyone who can go ice skating. I tried and didn't succeed, for now. It was fun though. Maybe with a lot of practice things will get easier for me. Turns out I live right by the river, and during the winter they open it as a trail for ice skating or walking.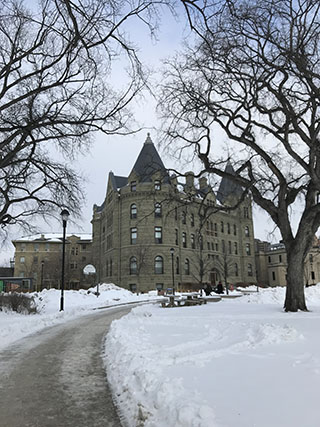 Since it's a "bit" cold out I can't just simply walk to places, so I use the bus to go basically anywhere. My first time riding it was challenging. A trip that was only supposed to take me 15 to 20 minutes ended up being an hour and a half.

Even though there will always be unpleasant experiences, I like to see the funny things in them, and how they help me grown as a person. For instance, last week I was walking home (it's a five minute walk from the bus stop to my building), with my headphones on, listening to some great music, all of a sudden I find myself on the ground, sliding down the icy road and my phone sliding down the opposite way. I knew this would happen eventually, and it was hilarious.

My classes started last week. They were better than I expected. Sitting down in the classrooms, listening to the professors lecturing was truly fulfilling. I couldn't be more grateful. Finally, I figured out what the French Lab is for. It's really entertaining. The moment you walk through the classroom door, the teacher only speaks in French. I was clueless at first, but for me this will be a great way of learning French, having no other option besides trying to understand and making an effort.

Last week was also the week I moved to my apartment, and that has been an amazing experience (Dad, if you're reading this, thanks). I do have a noisy neighbor though. It was my second night in my place, and I kept on hearing this guy talking really loudly, screaming even. Frankly, it was a bit scary. About an hour later, someone knocks on my door. It was the police. Apparently another person was also annoyed at the noise he was making. Turns out the neighbor was just playing online.

Today there was a career fair in the university, with more than 80 stands! I got the chance to fill out application forms for part-time jobs, summer jobs, and volunteer work. The fair is one of the many events that the university provides for us.

I'm loving the university and my life here. Now I'm looking forward to getting to know Winnipeg better. Visiting the Human Rights museum is at the top of my to-do list.
4 Responses to "Mariana Studying in Canada Part II"
Leave a Reply