Posted on November 30th, 2018 by Bryanna Davis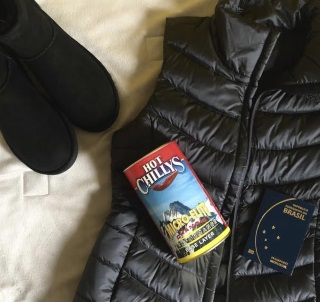 When I got a call last week that told me I was this year's winner for my video "Remembering to Live,"I couldn't help but cry and be grateful. This contest isn't just about competing for the prize, it's about getting to know yourself better, putting together a video that describes what you most care about, your ambitions. It makes you realize what is truly important in your life. Thanks to this contest I am one step closer to achieving my dream.
If you asked me a year ago if I ever thought I'd be going to college in a place I have never been to my answer would be no. All of this seems a bit surreal, in a good way, think about it, in just one year I got accepted into college, gathered the courage to move to a new place, and despite the difficulties that have been encountered along the way this IS happening.
I just bought my plane ticket this week, and I'll be going to Winnipeg in early December. Upon arrival the temperature there will probably be -4 degrees Fahrenheit, that will be a huge contrast to Brazil's extremely hot summer! Which is why I bought the essentials: winter boots, base layers and a coat, so as to not freeze once I get there.
My classes start in January, there were so many classes to choose from that it took me nearly a week to plan everything, but then again this is all very new to me. I hope to get the chance to help other international students who are pursuing their studies abroad with this registration process as it can be difficult for people that come from countries like mine, in which you don't pick your own classes this way.
After watching my video you'll probably know that my passion is majorly learning languages, so I planned on registering for a language class, since one of my International Business major requirements are 12 credit hours of humanities studies. There were a whole host of language classes available such as Japanese, Portuguese even (which I'm not allowed to take since I'm fluent), but the one that caught my eye the most was French. For people who don't speak a word of French, there's a French lab requirement, besides the actual class. I still don't know what the lab class is for, but I guess I'll find out in January and definitely write about it. I also love writing, so I registered for a Business writing class as well. One of the most challenging thing for me will probably be having to decide which classes I'm going to take, since they all seem interesting!!!
I don't know when I'll come back to Brazil, since my plan is to spend summer working to save up money to pay for tuition, so I'll make the most of the 21 days I have left before moving. I'm extremely excited to start this new chapter of my life in Canada.
This blog was written by Mariana Barbosa, our 2018 Travel Video Contest winner. Check back frequently to follow her journey on becoming an international student in Canada!
3 Responses to "Mariana Barbosa Prepares for her Journey to Canada"
Erika Says:
November 30th, 2018 at 6:24 pm

What great news, Marina!
That's your first step towards success and as your teacher I couldn't be prouder ❤

The only advice I could give you is: stay curious. Keep on learning, meet new people, make new friends, enjoy Canada to the full.
We'll be here cheering for you ????

Mari Says:
January 1st, 2019 at 10:06 am

Hi, really interesting article. Please connect me here:facebook.com/marina.petuckhova if you have interesting information on the theme to share. Looking forward for new foreign connections.

Lee Max Says:
September 3rd, 2019 at 2:34 am

Thanks for sharing this well define article with us for study in Canada.
Leave a Reply