Posted on August 11th, 2017 by Connor Smith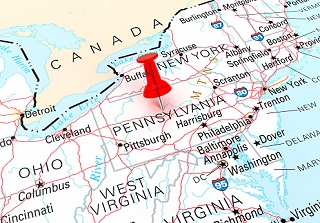 From sea to shining sea the United States of America is the land of freedom, opportunity and most importantly higher education. Deciding where to study isn't easy since America has 50 individual states each with tons of different colleges and their own unique cultures. One of the most historic places and embodies the true spirit of American culture is the state of Pennsylvania.
Each year more than 48,000 international students come to Pennsylvania to live and study. For some students it's the educational value, the big cities, and natural wonders that make them want to study here.  For others it's just the food and the friendly people that makes so many people from around the world want to come here. Below are some of the reasons why you should consider studying in Pennsylvania.
A Rich History
Pennsylvania's largest city, Philadelphia, is the city that literally started it all! This is the city where America fought for its freedom during the American Revolution and signed the Declaration of Independence.
If you're interest is in history then you should come study at one of the oldest cities in America. The University of Pennsylvania is one of the oldest universities in America, founded by Benjamin Franklin (The man on the $100 bill) all the way back in 1740.
Since Philadelphia is over 300 years old it's rich in historic landmarks. The famous "Liberty Bell" and countless other landmarks make appearances in the hit movies, like National Treasure, starring Nicolas Cage!
City Life
Pennsylvania is home to not just one but to two major cities! Philadelphia and Pittsburgh are both major U.S. cities that are culturally rich and make for ideal locations to study in.
In Philadelphia something is always going on! With tons of festivals for music, films and food throughout the year, you'll always have plans over the weekend. Philadelphia also hosts the highly popular "Made for America" music festival showcases big names such as Beyonce and The Weeknd in past years.
Pittsburgh may not be as large as Philadelphia but it has some undeniable perks. It's constantly named one of the most affordable cities in the US to live in with rent averaging as little as $800 for a one bedroom compared to $2900 in NYC . Pittsburgh is also home to a few well known national sports teams the NFL team the Steelers and the NHL team the Penguins.
However, if city life isn't for you there are other options for studying in Pennsylvania. Wilson College is a small liberal arts college located in the picturesque town of Chambersburg. Since Wilson only has around 1000 students it's easy to make new friends and to keep up with old ones on campus.
The Great Outdoors
If you're a nature lover, Pennsylvania is home to 120 state parks and 18 national parks. Natural wonders such as the Pine Creek Gorge aka the "Grand Canyon of Pennsylvania". Enjoy a sunset hike on the shores of Lake Erie or go boating down the Susquehanna River, the longest river on the east of the US!
A beautiful park to see stars is Cherry Springs State Park, one of the best places to see the Milky Way Galaxy. Cherry Springs offers a wide variety of outdoor recreational activities ranging from mountain biking, hiking and rustic camping. In the winter time you can go ice skating, snowboarding or just build a snowman with your friends.
The Food
Pennsylvania is home to some of the most iconic food in the country. You haven't lived till you've tried a "Philly cheesesteak". This delicious sandwich consists of thinly sliced rib eye beef and melted cheese which is an iconic Philly staple since the 1930s.
The two best spots in city to try one is at Pat's King of Steaks and Geno's Steaks. These two restaurants constantly compete for best cheesesteak in all of Philly! Make the judgement for yourself on who is really king of the cheesesteak.
Pennsylvania is a melting pot of culture with multiple food options to try from all over the world. Philadelphia and Pittsburgh have an up and coming food scene with plenty of options.
Attractions
Do you know that the American chocolate mecca, The Hershey Company, is headquartered in Hershey, Pennsylvania? The Hershey headquarters is anything but typical…it's a fully functioning theme park called "Hersheypark". With three parks included in your admission price. You can ride roller coasters, tube through the lazy river at "The Boardwalk at Hersheypark", and wander through "ZooAmerica's" 11-acre zoo with more than 200 animals. Of course there is also the chocolate!
While we've only scratched the surface on why you should study in Pennsylvania. To get the full story read our Study in Pennsylvania section and then decide whether living in Pennsylvania is right for you!
2 Responses to "The Top Reasons Why You Should Earn Your Degree in Pennsylvania"
Sarah Says:
August 14th, 2017 at 5:39 am

Dear Connor,

For your helpful contribution. I would like to study soon and I do not know whether I I should study in Pennsylvania or Ohio. I would be happy if you could also contribute about studying in Ohio. Would help me make a decision.

I wish you great success with your blog.

Connor Smith Says:
August 16th, 2017 at 11:43 am

Hi Sarah! Both states are a great choice with many great schools to check out! If you are looking for a school to study in Pennsylvania, I recommend that you should request information from Wilson College. Wilson is a small liberal arts college with small class sizes and lots of options to major in.
Leave a Reply