Posted on November 11th, 2016 by Bryanna Davis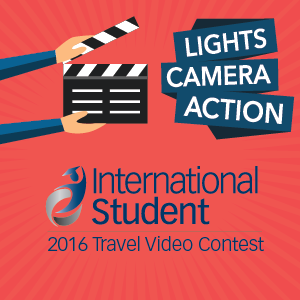 We are pleased to announce that our 2016 Travel Video Contest Viewers' Choice winner and finalists have been announced! After spending many hours watching (and re-watching) each of the inspiring 159 entries, our InternationalStudent.com team was finally able to come up with a list of 14 finalists. These 14 finalists in combination with the Viewers' Choice winner means 15 videos will compete for the $4,000 grand prize and other runner-up prizes.
Our finalist videos this year include a variety of genres: from artistic, to funny, to musical, to heartwarming. However, they each have one thing in common: they're all impressive beyond words. Our judging panel consists of 9 international educators, supporters and travelers and they have their work cut out for them!
When watching the finalist videos make sure you watch our Viewers' Choice winning video: A Couple of MBA´s. This laugh-filled video includes a likeable couple that explains their story starting with how they met to where they want their international travels to take them. After receiving numerous views (and votes) this duo won $1,000 and an automatic entry into the finalist round.
Stay up to date on our Travel Video Contest and see who will take home the $4,000 grand prize!
No Responses to "The Viewers' Choice Winner and Finalists Have Been Named!"
Leave a Reply