Posted on September 9th, 2016 by Jenny Frankel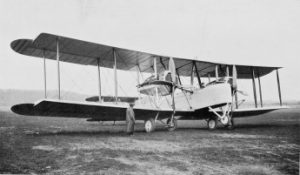 Having a little bit of knowledge about the history of aviation when deciding how to apply for a degree in aviation can help you during the application process. Some US colleges and universities, might require an essay or more information during an interview about what you enjoy about flight, why you want to study aviation and your aviation knowledge in general. This will of course be in addition to test scores, visas, transcripts and other documents required to apply. While researching how to apply for a degree in aviation, international students may also want to research some basic milestones in the history of flight.
Humankind has always been fascinated with flight, but great strides were made in aviation from ancient times to the beginning of the 1900s. Ancient art often depicts god-like creatures with wings. Many Greek pieces of literature involved winged hybrids. In ancient China, around 400 BCE, the Kongming lantern was invented. Like a hot air balloon, the Kongming was an oil lamp was placed under a large paper bag, which caused the bag to float. It was used to scare enemy attackers.
Leonardo da Vinci, a famous artist and inventor, created many flying machines during the renaissance period in Europe, which were very advanced for the times. Some of these flying machines included a glider, a helicopter and a parachute.
During the late 1700s, many advances in air travel came about. The Montgolfier brothers launched an unmanned hot air balloon and manned hot air balloon. Competing with them was Jacques Charles and the Robert brothers who launched hydrogen-filled balloons. Ballooning became very fashionable in Europe.
In the 1800s, inventors began toying with the idea of gliders. Sir George Cayley studied the physics of flight. John Stringfellow, Jean-Marie Le Bris and Jen Wnek built their own gliders. All these researchers of flight were called "gentleman scientists."
In the early 20th century, the first aircrafts to make steady controlled flights were airships, later to be known as blimps. The Wright Brothers made the first controlled aircraft, powered heavier than air manned flight in Kill Devil Hills, North Carolina in 1903.
This was just the beginning of aircrafts as we know it today. As you can see, there has been a lot of progress since ancient times in the aviation world, and people have always been fascinated by flight. When deciding when and how to apply for a degree in aviation, it is good for international students to be familiar with some of the major events in aviation history in case they are asked about it on an essay question or during an admissions interview.
When researching how to apply for a degree in aviation, international students will find that there is no one right way. Many colleges and universities have applications you can fill out online on their websites. Keep in mind that many documents are needed for an application, especially for international students, so you should apply early.
No Responses to "How Knowing the History of Aviation Can Help When Applying for a Degree in Aviation"
Leave a Reply