Posted on August 19th, 2016 by Gabriele Hickman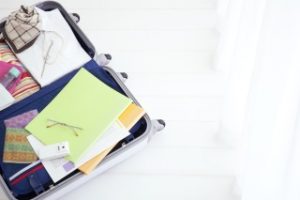 The admissions office at your college may have already asked you to fill out applications and paperwork and send documents such as transcripts and test scores, but you're not off the hook yet. Now you have to make sure that you have all of the (additional) travel documents required for studying abroad. Gather these six documents before traveling, and check in with your school and your country's embassy to ensure you have everything you need.
Passport
You should apply as early as possible early for your passport, as it may take up to 10 weeks to receive the final document in the mail. Check with the country you will be studying in and see their passport requirements. Some may ask that you have a passport for at least six months after your trip is complete.
Student Visa
Each country's visa has a different application, but you must get one if you want to study abroad. You will work with the embassy of the country you want to study in to find details on what their requirements are. Be prepared to apply at least two months in advance (do not wait to apply once abroad) and have proof of a residence abroad, intent to depart from the country upon completion of your studies, proof of financial support, a passport, and an acceptance letter to your college.
Proof of Vaccinations
Be sure to check the vaccination requirements of the country you're studying in. Some countries, especially countries in Africa and Asia, require students to have an international certificate of vaccinations before they depart for their studies abroad, which can be found at the local Department of Health and at some doctors' offices. Even if you're not studying in a country that requires this, it may be helpful to have in case you decide to travel to one during your studies. Some colleges may also require certain vaccinations, so make sure you check with your school too and obtain proof that you have received the vaccinations your country of study and college has required.
Proof of Age Card
Your country's identification card may not be accepted in your country of study. A proof of age card can help identify you in your country of study and serve as age proof when you want to visit a club or purchase alcohol. Check with your country of study for their identification options and the application process.
Letter from Your Doctor
Some countries will not let you enter with medications. Make sure that you get a letter from your doctor for the medications you are bringing, and check the laws in your country of study to make sure you are safely bringing your medications with you abroad.
Make Copies of Travel Documents

Make two photocopies of all your travel documents in case of an emergency. Leave one copy with a trusted person at home and carry the other with you away from your other documents. That way, in case you lose your documents or get them stolen from you, you won't have to go through the hassle of regaining them in a foreign country.
The process to study abroad can seem like a lot, but planning ahead can save you from traveling stress when you're ready to begin your studies abroad.
2 Responses to "Travel Document Requirements When Studying Abroad"
xtophany1212 Says:
March 19th, 2020 at 9:39 am

Please I want to apply for schooling in abroad

Connor Blay Says:
March 27th, 2020 at 11:06 am

Hi there! Unfortunately, we can't provide personalized assistance with college applications. If you want to learn more about study abroad requirements visit our Study Abroad Center.
Leave a Reply