Posted on March 28th, 2016 by Sutherland Beever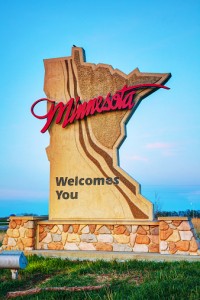 Welcome to "The Land of 10,000 Lakes!" Believe it or not, that's not an exaggeration; in fact, The North Star State has 11,842 lakes, each spanning at least 10 acres.
If you end up studying in Minnesota as an international student, you'll have a great deal of time to study since its home to ten of the coldest counties in the county, but trust us, the snow will melt! Of course after every winter comes the sunshine of spring, and when the weather does warm up you'll want to head outdoors.
Here are three fun places to start:
Canoeing the Boundary Waters—the Superior National Forest offers hiking, hunting, fishing and a fair share of camping. With 80 entry points and 1,200 miles of canoe routes, Boundary Waters offers a uniquely American experience, perfect for a weekend away.
Camping on Lake Superior— another great activity within the Superior National Forest is camping on the north shore beaches of Lake Superior. If you prefer to live like the locals, park somewhere near the beach, bring a blanket, and simply camp out under the stars. Of course, you may want to bring friends and other supplies to enjoy the Minnesota night "au naturel."
Broomball—what's "broomball," you ask? Think hockey, but instead of skates and sticks imagine rubber-soled shoes and brooms. Sure, it sounds like a kid's game but the amateur aspect is one of the sport's charms. Founded in Canada and growing in popularity around the world, broomball is played in many cities' public parks during the winters. Depending how much you learn to love the sport, check out the broomball National Championship game.  After all, Minnesota has hosted it eight of the past fifteen years.
Sound interested? Be sure to check out great schools in Minnesota!
No Responses to "Places to Visit in Minnesota!"
Leave a Reply