Posted on March 18th, 2016 by Sutherland Beever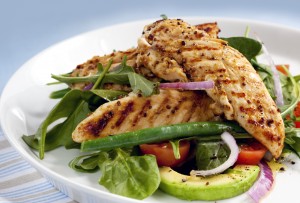 Healthy eating in a new country? It may sound a little hard, but not to worry, we're here to help!
As an international student it can be extremely difficult knowing what your dining options will be in an unfamiliar country, not to mention being able to differentiate the healthy choices from the not so healthy ones. Of course you can't go wrong with ensuring a good amount of fruits and vegetables meet your dietary cut, but let's be honest, the USA is famous for packaged, processed, and the worst of all, fast food.
To make things a little easier, I've narrowed down eating in the USA to three categories: grocery store shopping, traditional restaurant dining, and fast food.
Option 1: Grocery Stores
 Grocery stores are generally seen as the best option when trying to eat healthy in the United States because the options are simply endless, and everything in a package is legally required by the US government to have a nutrition label.  Of course grocery stores come stocked with both the healthy and [terribly] unhealthy options, but glutton free, vegan and vegetarian foods are thankfully becoming more and more popular.
Traditional grocery stores are starting to have entire rows of these ultra-healthy selections, and nowadays there are several chains of 'whole food' markets focused entirely on these healthy options, with huge selections of produce, organic meat, snacks and even organic beer!  If you are a true 'health nut' these whole food markets even offer organic personal products like soaps and cleaners for a well-rounded, and extremely healthy shopping experience.
Not sure how to read nutrition labels?
Option 2: Restaurants
In terms of sit-down restaurants, the quantity of healthy choices will usually depend on the restaurant that you choose to visit. Salads, of course, are pretty standard, but as a connoisseur of the healthy too, I'm sure you're generally going to need more than a simple salad for a meal.  Luckily, within the United States restaurants may specialize in a specific type of food, but will still have a pretty extensive selection of dining options.  For example, it's not uncommon for a sit-down restaurant that specializes in pizza to also have options for pasta, wings, wraps and salads too.
When looking over the menu, there are likely to be smaller sections labeled 'lower calorie options' or something of the equivalent, helping you narrow down the best choices for your waistline. More modern restaurants will also use small symbols for vegetarian and gluten free menu items to help you stay within your dietary references.
One great thing that I will note about the US is that as long as you have four quarters in your pocket, you won't go hungry! America has fast food restaurants on nearly every corner, serving everything from burgers and sea salt fries to ice cream sundaes, but being so fast 80% of the time these restaurants will rank at the very bottom of the healthy scale.  If you aren't in search of grease as one of the main ingredients of your lunch, there are healthier options like Panera Bread, Subway or Pita Pit.  These fast food options aren't quite as plentiful, but they do offer fresh sandwiches and wraps (both the healthy and unhealthy ones), with side choices of baked chips or vegetables in most cases.
Option 3: Fast Food
Regardless of where you may find fast food, generally you will be able to track down the nutrition information from all or at least most menu items.  Sometimes this information is available in a brochure like pamphlet (upon request), and in some cases in the form of a large poster within the restaurant itself.
Ready for Action? 
Now that you're in a healthy mindset, never forget that a HUGE part of studying abroad is to experience the culture of course, but the food as well!  The US is known for delicious, unique, and ultra-modern dishes that just won't taste the same in other parts of the world.  After all, you wouldn't travel to France and not stop at a bakery or two for croissants, right? Be mindful of your waistline and try to make healthy choices when possible, but don't forget to indulge in new dishes soaked in butter or smothered in chocolate every once in a while!
Are you considering studying nutrition in the US?
8 Responses to "Healthy Eating in the USA"
Leave a Reply