Posted on November 16th, 2015 by Bryanna Davis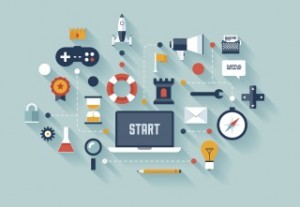 The rate of annual game sales has tripled since the early 2000's and video games are now a household staple around the world. With the increase in video game popularity, the number of careers in game design has likewise increased. Many international students who desire a career designing video games have made the decision to study game design in the United States. However, the discipline of game design is broad and has many potential areas of focus/subsequent roles on a development team. Before deciding to study game design, international students need to ask important questions like "What is game design?" so they can decide what particular facet of video game creation they want to take part in.
Game designers take the creative lead in imagining and bringing to life video game worlds: the stories, characters, gameplay, rules, interfaces, dialogue and environments. The skills of a game designer are drawn from the fields of computer science and programming, creative writing and graphic design. The ultimate goal of a game designer is to become the lead designer on his or her own project, to build and bring the video game to life. However, there are many roles on a development team that game designers hold while amassing the experience and credentials required to be given the reins over his or her own project. These specialized tasks fall under six categories of design: system design, world design, level design, content design, game writing and interface design.
What is Game Design: Division Breakdown
World design- most often this is the realm of the lead designer, world design is the creation of the universe in which the game is to take place. This includes creating the setting, theme and back-story.
Content design- content designers and skilled graphic artists fill in the world outlined by the lead designer. Content design includes character and story design, item and object design, quest design, mission and puzzle design.
System design- system designers program game rules and the mathematical algorithms underlying the game.
Interface design- interface design determines how users interact with the game. This includes the bulk of game-play design, as well as particulars relating to menus and the display.
Game writing- game writers create the dialogue and story line of the game.
Level design- level design is a task requiring designers to possess an aptitude with graphic arts, construct the environment, levels and topographical features of the video game world.
When an international student decides to study game design in the US, they will receive an education that will both prepare them to imagine and create their own video game, as well as to contribute to the creation of other games in any of the aforementioned capacities.
No Responses to "What is Game Design: the Divisions"
Leave a Reply