Posted on August 8th, 2015 by Bryanna Davis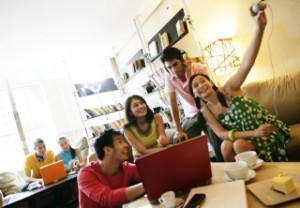 Whether you're about to head to the United States for the upcoming Fall semester or you're still in the beginning stages of finding a college or university you want to attend- you won't want to miss this hangout. We will cover a variety of information that you should know prior to stepping foot on US soil. Covered will include what to expect from your classes, meeting your roommate, starting your social life from scratch, academic life savers, and other daily adjustment tips.
This hangout will have great information no matter what college you will attend in the Fall, what degree you'll be pursing or what country you come from- so make sure you attend. Join this free Hangout On Air Thursday, August 13th, 2015 at 11am EDT to get tips on how to adjust and to ask your questions live!
If you can't attend on Thursday, it's no problem! Sign up anyway and we'll send you the link to video afterwards.
No Responses to "Hangout for Tips on Adjusting to Life in the US"
Leave a Reply