Posted on December 28th, 2014 by Jenny Frankel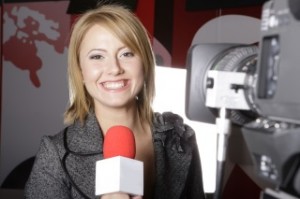 Los Angeles is one of the top destinations for international students coming to the US, as a world-class city with famous beaches, strong culture, many prominent ethnic groups, and the core of the American entertainment industry. Let's take a closer look at what prospects the City of Angels has to offer to students looking to study broadcasting in the US.
Los Angeles offers a great variety of colleges and universities, with three of them – CalTech, UCLA, and USC – placing in US News & World Report's top 25 nationally. Of the three, UCLA and USC both boast excellent communications and film programs, making them especially desirable targets for those looking to study broadcasting in Los Angeles. And as universities consistently attracting international students, UCLA and USC already have in place ethnic and cultural organizations that can make any student's transition to America a smoother one.
The list doesn't stop there. The city's numerous elite film and television schools also present a great opportunity to break into broadcasting in Los Angeles. Thanks to Los Angeles's place at the center of the world's entertainment and media industries, the list goes on and on: in addition to USC and UCLA, the American Film Institute, the California Institute of the Arts, Loyola Marymount University, and Chapman University all offer world-class programs in film and television that can get you the training you need for your broadcasting career.
Even further expanding your options, the University of California and California State University systems have a combined one dozen locations in the area at which you can get a solid all-around education while focusing on studying broadcasting in Los Angeles. The UC system's Los Angeles campuses include Irvine, the aforementioned UCLA, and Riverside, while the CSU system adds locations in Los Angeles proper, Pomona, Long Beach, Fullerton, Northridge, Dominguez Hills, Bakersfield, and San Bernardino. All these schools offer a strong education within a diverse student body in the setting of the greater Los Angeles area.
Although I've just highlighted some of the most popular post-secondary school choices in Los Angeles- there are plenty more to explore. Whether you'd prefer a large research university, a school specializing in film and TV, or a school in a state system, Los Angeles provides a wealth of opportunity for the aspiring broadcaster.
Learn more about studying broadcast here.
No Responses to "Studying Broadcasting in Los Angeles"
Leave a Reply