Posted on December 23rd, 2014 by Bryanna Davis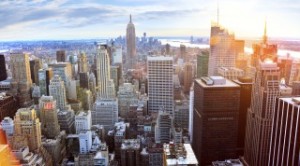 Deciding where to study sociology in the US can seem pretty daunting. Cities can be attractive locations for international students to study. They tend to be culturally, ethnically and religiously diverse which allows the adventurous student to explore other cultures and gives the homesick student the ability to find a familiar community. The three largest cities in the United States are New York City, Los Angeles, and Chicago; they also happen to be great cities to study sociology.
New York, New York
New York City has been the largest city in the US since 1790. It has a major influence on finance (home of wall street and the New York stock exchange), the arts (e.g. home of the Broadway theater district, 2nd largest in film industry and over 500 galleries), media and international relations (e.g. home of the United Nations). New York City is ethnically, linguistically and religiously diverse. Over 800 languages are spoken in the city and 36% of its population is foreign born. New York has many colleges and universities to choose from including some of the best schools to study sociology: Columbia University, New York University, SUNY and The New School. The climate of New York City is cold and damp during the winter (32.1 degrees on average), mild springs and autumns, and hot and humid summers. New York City has the most extensive mass transit system in the US, and it's open 24 hours a day, making it an easy city to explore for students who do not own a car.
Los Angeles, California
Los Angeles is located in southern California, where the whether is pretty mild year round. Like New York, Los Angeles is one of the most ethnically diverse cities in the US and has an extremely influential and active arts scene. Los Angeles has been called the "creative capital of the world" as 1 out of every 6 residents works in the arts. It is the home of Hollywood, as well as over 840 galleries and museums. There are three public universities as well as one private university in Los Angeles that are among the best schools to study sociology: California State University- Los Angeles, California State University- Northridge, University of Southern California and University of California- Los Angeles. International students should be aware of the transportation situation in Los Angeles. If you're living off campus, it will probably be necessary to purchase a car as Los Angeles has an extensive freeway system, but not an extensive mass transit system.
Chicago, Illinois
Chicago is the third largest city in the US and is located on the southwestern shore of Lake Michigan. The climate of Chicago is different than Los Angeles in that it has four distinct seasons. The average temperature in the summer is 85 degrees, while the average temperature in the winter is 24 degrees. Chicago is an international hub for finance, commerce, telecommunications and transportation. While less ethnically diverse than New York City and Los Angeles, Chicago offers people many different places to worship with adherents of Judaism, Islam, Buddhism, Hinduism, Jainism, Sikhism and Baha'i. Some of the best schools to study sociology in Chicago are University of Chicago, Northwestern, and University of Illinois-Chicago. Chicago, like New York City, has rapid transit (L-train and subway) open 24 hours a day, which makes life easier for international students without cars.
Each of the cities mentioned above are attractive in their own ways and each is a great city to study sociology. They each have their own distinct culture, food, and exciting nightlife, and each city has plenty of universities to choose from.
To get more information on what studying the various US states entails, find out here.
2 Responses to "What are the Best Cities to Study Sociology?"
Abu Adnan Khan Says:
December 26th, 2014 at 12:25 am

Dear Sir/Madam,

I would like to inform you that I am Abu Adnan Khan, from Bangladesh, date of birth – 06 Oct. 1998, passed S.S.C.(10 class) obtaining result GPA 5 out of 5, (science group),to obtain GPA-5 numbers require only 80% but I obtain more then 90% and studying H.S.C. (12 class) and hope I can obtain result GPA – 5 out of- 5 and hope will get numbers more then 90% on average. My final examination will finish March 2016, then I wish to get admit at any college in USA for the program "Aviation Maintenance".

I also inform you that my father is a house tutor and he is has been suffering from Thiroad and Hormone. My mother is a house wife and I am only the son of my parents, I have no brother or sister. So I may need Diversity/Need based Scholarships study at college in USA. I have some relatives in USA and I can get sponsor only residence, books
and other costs

To the best of my knowledge International students are not eligible for FAFSA and most of Scholarships are for the US citizen. So please allow me the opportunity you may
have as I am a need based scholar international student. From my child hood my dream is to study at Aviation Maintenance from my hart and my parents also.

After my final examination I shall complete IELTS score So please add my to your contract list and inform me which scholarship I am eligible for as an international student and which scholarship may be easy to get for me as freshman student and please inform me when and where I shall have to apply.

Best regards.

Abu Adnan Khan.
Email – abuadnankhan1998@gmail.com

Bryanna Davis Says:
December 29th, 2014 at 1:46 pm

Hi Abu,

Thanks for your interest! If you are interested in studying in the US then you will want to find a school to attend. Once you find a school make sure you complete the contact form so you can receive more information on the school of your choice.

You can search to find scholarships here. Good luck!
Leave a Reply