Posted on November 25th, 2014 by Bryanna Davis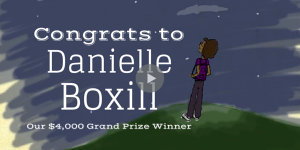 The 2014 Travel Video contest has come to an end and although we're sad that we no longer have new videos coming in we are still excited that the winners have been chosen! If you missed the announcement of the winners and are dying to know who walked away with $4,000, we have the answer for you!
The travel video contest winners were narrowed down from a great group of 15 finalists, including the Viewers' Choice Winner Ebrahim Kayali for his video "City of Science and Blood." Although impressed by all finalists our judges made the final decision and here are the results:
1st Place ($4,000): Danielle Boxill for "My Illustrated Life"
From the moment you hit play on Danielle's video you know what her true talent and passion is: animation. Her desire to obtain an accredited animation degree within her home country of Trinidad is impossible so dreams of studying in the United States are strong. Watch Danielle's life story unfold and be impressed!
2nd Place ($500): Anh Nguyen for "Revisiting Homeland"
Vietnam is full of as much beauty as it is poverty, but for Anh the beauty is not enough. Anh plans to work to decrease the amount of poverty in Vietnam and won't stop until he's made a difference. Watch Anh's story and his devotion to his mission will be evident.
3rd Place ($250): Drew Thomas for "Hollywood of the North"
Anyone who loves visual effects is in for a treat while watching "Hollywood of the North." Drew not just tells us why he wants to study abroad and attend the CG Masters School of 3D Animation & AFX – he shows us! Watch his impressive video and be as captivated by his visual effects as our judges were!
At InternationalStudent.com we were more than entertained by each video- we were impressed! Our 2014 Travel Video Contest was a huge success and it couldn't have been as great as it was without the contribution of our talented visitors. Thanks to all who entered and we hope to see you next year!
No Responses to "2014 Travel Video Contest Winner"
Leave a Reply