Posted on November 18th, 2014 by Bryanna Davis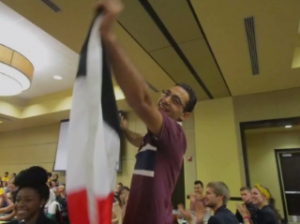 Although the 2014 Travel Video Contest is closed for new entries- there is still plenty of excitement to go around! Last week we announced the 15 finalists, including your pick: the Viewers' Choice winner! If you haven't checked out these talent-ridden videos, here's a bit of information to get you excited.
The 2014 Viewers' Choice is City of Science and Blood from Ebrahim Kayali. Ebrahim's video shares his life story in Syria and how coming to the United States is helping him make his dream come true. Watch City of Science and Blood to see what Ebrahim's dream is and how he's making it happen.
Congrats to Ebrahim Kayali for winning the Viewers' Choice Award!
There are 14 other videos in the running for the winning title which means $4,000 and their very own blog. Take a look:
Revisiting Homeland Vietnam by Anh Nguyen
After fancy dinners and stays at a 4 star hotel seeing poverty through Vietnam struck a chord with Anh. He studies business, but he does much more- see what he wants to do with his trip back to Vietnam.
Hollywood of the North by Drew Thomas
Drew is his name and the art of visual effects is his game. Drew's dream school is CG Masters School of 3D Animation & VFX and he even created a demo-reel to prove why he would fit in so well there. Watch and be amazed.
Beth and Dio to the Rescue by Adelheid BethannySudibyo
Save the sea turtles! Beth and Dio are on a mission to save sea turtles, see how and why they will complete this mission.
Certain Ambitions by Grace Phelps-Roper
Grace has had the chance to study abroad in Finland and now she wants to take her experience to the next level and explore the home and culture of her new-found friends. Is her journey coming to an end or is it just starting?
It Starts With Me by David Shumate
Tired of the mundane cycle of everyday life David is making it his mission to break this cycle for many around the world, starting with him.
Into the Seoul of My Heart by Eliana Bencomse
Before starting her studies in Korea, Eliana plans to dive right into Korean culture and language – see what her plan entails.
Planting Roots Amongs the Trees by Lizbeth Torres
Allow Lizbeth to walk you through her city while sharing her story and impressing you through her poetic words. You might just find out where and why she wants to plant her roots.
Seeking Answers of Life by Xingxing Lin
Xingxing has great tips like: communication is more than making sentences, you must have strength and patience, and it's OK to make mistakes. But she also has a great plan…watch and see how she will use her own words of encouragement along with science to improve the future of many.
Practically British by Rebecca Botter
Rebecca will have you impressed or laughing (perhaps both) at just how close to British she is. Watch why studying at Oxford University is her cup of tea.
From Darkness to Creation by Florence Van Overeem
Depression didn't keep Florence down- her studies at Slippery Rock University have helped put a fresh spin on life and help her find her true passion.
Rural Treasure by Levi Mberego
Levi has studied at the University of Botswana for three years and has yet to explore outside the city. Before heading home, he wants to travel while motivating teenagers in surrounding villages in a project he calls: "Rural Treasures." Watch and see what he has in store for neighboring youth.
My Illustrated Life by Danielle Boxill
Watch and be amazed as Danielle's animations unfold a story right before your eyes. Trinidad lacks an accredited animation program but this hurdle hasn't stopped her from drawing herself one step closer to her dream.
Seeker of Knowledge by Pedro Garcia
Pedro's amazing music and exciting on-site shots will leave you wanting more! See Jordan through Pedro's eyes and where he wants to explore next.
Screens of Life by Azzedine Ladjel
Azzedine learned new words daily and repeated this process automatically- see what happened and where he's hoping this dedication will take him.
Watch a few (or all of the finalist videos) and make sure you check back on November 21st to see who will take home the $4,000 grand prize!
One Response to "2014 Travel Video Contest Viewers' Choice Winner and Finalists"
video izle Says:
December 16th, 2014 at 3:29 pm

video izle Fantastic article. I used to be reviewing continually the following blog page with this particular inspired! Worthwhile facts precisely the remainder section 🙂 We contend with similarly info a lot. I used to be seeking that a number of info for any pretty extensive moment. Thanks and also with luck.
Leave a Reply