Posted on November 28th, 2014 by Bryanna Davis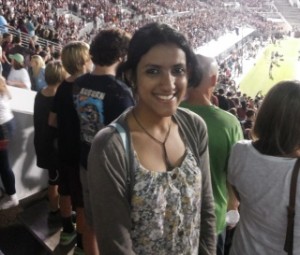 This exciting journey was written by Meenakshi Das- a freshman student majoring in Accounting at Mississippi State University. She is an international student from Pune, India. She enjoys reading, travelling and writing in her free time.
America. Two years back, this name always put a smile on my face. It had always been my dream to study in this country which provides a plethora of educational and cultural opportunities. But obviously, coming here was not a cakewalk. I had to go through a huge application process which spanned two whole years. But at the end of it, the hard work and persistence was definitely worth it. I finally arrived in the United States and haven't regretted any part of my decision. In this post, I will mention some criteria which helped me a lot while applying to US universities.
1. Test Scores: Test scores are very important when it comes to applying to US universities. Although they do not dominate the application process entirely, they do play a significant role in one's admission decision. One should start preparing for the SAT and TOEFL well in advance. To enhance the application, one can also consider taking AP and SAT subject exams.
2. Type of University: There are more than 30,000 universities in the United States. Some of them are private, public while others are liberal arts colleges. Choosing which university is right for you will depend upon one's character, preference and future goals. Typically, liberal arts colleges have small classes and encourage learning of a wide variety of subjects with an emphasis on classroom discussion and undergraduate research. But they are typically small and may not offer the number of degrees or services that a larger university would.
State universities are much larger and governmentally funded and therefore, tuition is usually less expensive than a private university. If one's goal is to save on tuition, consider a state university. Many large universities have honors colleges or honors programs which provide vigorous coursework for students looking for an additional challenge. It might be useful to look into such programs as students can get a smaller classroom experience with personalized attention from professors.
3. Financial Aid: There are generally two types of financial aid offered by U.S. universities. One is need-based and other is merit-based.
a. Need-based aid requires filling out a lot of forms and documents, and is given only to students that demonstrate financial need. If a student is struggling financially, consider applying to schools with a "need-blind" admission policy. This means that the school will not consider the student's financial situation when deciding admissions.
b. Merit-based aid is generally in the form of scholarships, and can be competitive. This type of aid is not based on need, but based on academics. One should have a good SAT score, co-curricular and academic record, along with excellent recommendation letters.
4. Research: Googling various colleges and universities is very important during the application process. I remember spending a few hours daily on the Internet reading about many universities, what majors they offered and whether they provided scholarship opportunities. One should also keep an eye on the various educational fairs that may take place in the city. These fairs provide a good opportunity to meet admission representatives from various universities.
5. Start Early: Applying to universities is a time-consuming process. It starts from preparing for the SAT, TOEFL, etc., and culminates in the visa application procedure. Therefore, one must start in plenty of time advance to ensure that everything goes smoothly. A student would have to manage high school studies along with SAT preparations, therefore time management skills are really important. Above all, it is crucial to be patient and never lose hope in the process. There will be rejections from certain universities, but at the same time there will be acceptances too. Sometimes, I still cannot believe that I actually study in the United States now. Hard work, endurance and patience can definitely take one a long way!
If you're interested in studying at Mississippi State University like Meenakshi Das you can visit here.
4 Responses to "My Application Journey"
Leave a Reply