Posted on August 7th, 2014 by Bryanna Davis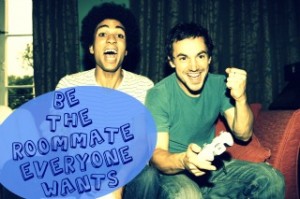 Toilets that never get cleaned, dirty clothes that pile up for weeks, loud music at all hours- we've all heard the horror stories when it comes to having a bad roommate. Adjusting to having a roommate can be difficult- especially if you've never had one. However, being a good roommate can help ensure that your roommate is a good one back to you! To ensure that you have the best year possible, we want to equip you with everything you need to be the best roommate possible.
This Friday at 11am EST we are hosting a live Hangout On Air on How to be the Roommate Everyone Wants. We will walk you through seven must-know items that can help you gain the "awesome roommate" title along with a few bonus tips.
Although showing your roommate common courtesy and respect can go a long way- if you've never had a roommate, there are a number of items you might never have even thought to consider!
If you're going to have a roommate this fall you don't want to miss this hangout- especially if this is the first time you've ever had a roommate!
After you sign up make sure you bookmark the hangout page so you can easily visit it again this Friday at 11am EST. You will also have the chance to ask your questions during the hangout- if you have a specific roommate situation or question- make sure you watch so you can ask for advice!
No Responses to "Learn How To Be The Roommate Everyone Wants"
Leave a Reply