Posted on February 28th, 2014 by Bryanna Davis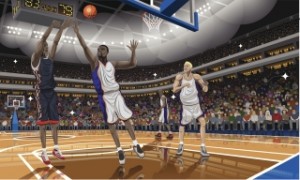 Why not dive into the culture of the United States? When international students come to America they hope to take in the culture, entertainment, and the many different experiences that their host nation offers. One of the most popular entertainment activities in the USA is organized professional sports. Sports are on all year round and can be seen live, on television, and even streamed online. Let us take a look at some of the most exciting sports leagues in the USA!
Called America's pastime, American baseball is a national fixture. Most big cities have a professional team, and during the spring and summer there is nothing better than to catch a great baseball game. Baseball tickets are usually pretty cheap for outfield or bleachers seats, and during weekdays in the summer students can typically get tickets for as low as five dollars. Since there are more than 150 games in a season, there is always a chance to catch an exciting game. If you make it to a game make sure to grab a hot dog and some Cracker Jacks to snack on!
Perhaps the fastest growing sport, and arguably the most popular, is American Football. Since American football is not a common sport in many countries around the world, many international students are intrigued by this hard-hitting sport. While the games are entertaining, football can offer much more than a couple of hours of entertainment. Football fans are noted as some of the most fun fans of any sport. They are die hard supporters for "their team" and can be seen every Sunday flocking around the television or cheering from the stands. Football is also home to tailgating- a pregame party where people grill, toss around a football, and hang out with other fans in the stadium parking lot.
Basketball is another favorite sport of Americans- and America is known for producing amazing basketball players who add to the excitement and fast paced nature of this sport. Basketball is non-stop, back and forth action allowing even those who become easily bored with watching a sports game stay entertained.
If you plan on studying in the US, you can find more on studying in the US here.
No Responses to "What You Should Know About American Professional Sports"
Leave a Reply