Posted on January 16th, 2014 by Bryanna Davis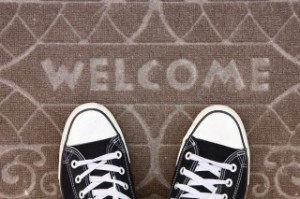 Being an international student is exciting! But as a natural part of travel comes culture shock which opens the doors to feeling homesick. This means that longing to be with friends and family back home can get in the way of your new experiences abroad. Your time abroad is very valuable and more often than not- short lived. So use the tips below on how to feel at home as an international student and start enjoying your life-changing experience.
Explore Your New Home
When feeling sad or scared it's easy to stay inside curled up watching movies or Skyping home. As tempting as it might be, make yourself get outside and explore. Start by walking around campus and becoming familiar with everything your school has to offer. You'll discover that your school has a ton of great resources for you, most of which are free.
Re-Invent Yourself
Studying abroad is of course about continuing your education while learning about a new culture- but it's also a good time to learn about you! At home people often get stuck in the rut of doing what they've always done, but when in a new location, it's the perfect time to test new waters. For example, if weightlifting has always been your go-to hobby, try auditioning for a play. If you would normally join an art club, check out the other club options like student government or campus activities. When you're an international student it's a great time to pursue other interests that take the back-burner when at home.
Your Dorm is Your Castle
Although it might not actually be a castle based on space- it can certainly be somewhere you enjoy coming back to after a long day. One of the best tips as to how to feel at home as an international student is to spend a few hours when you first move in to arrange your furniture the way you like and fill the space with things you enjoy like your home country flag, photos and plants.
Limit Your Skype Time
While a few calls home a week are good, a few calls home daily can severely limit your ability to use these tips on how to feel at home as an international student. When the feeling of being homesick sets in just think about what you would be doing if you were back home. More than likely the answer is you would be daydreaming about studying abroad! Make a quick call home if necessary, then start with step one- exploring your host country!
If you're still trying to find a school where you can be an international student, start your search for a school in the US here. Once you find a school, find the financial aid you need to help fund your studies.
One Response to "How to Feel at Home as an International Student"
Anonymous Says:
April 4th, 2016 at 9:02 am

I absolutely love your blog.. Great colors & theme. Did you build this site yourself? Please reply back as I'm planning to create my very own website and want to learn where you got this from or what the theme is named. Cheers!
Leave a Reply