Posted on January 20th, 2014 by Jenny Frankel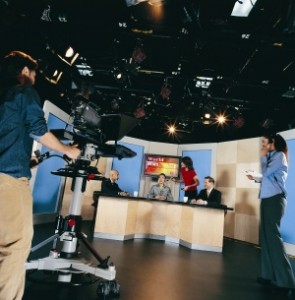 There are few jobs as glamorous in broadcasting as being an on-air reporter or anchor. Unfortunately, there are also few jobs as competitive. International students pursuing an education in broadcasting may find themselves out of luck if they go to school in a big city and just expect to get one of these jobs there straight out of the gate. One solution is to look for those coveted on-air broadcasting jobs in small markets rather than big ones.
Just to give you an idea of how sought after these positions are: according the United States Bureau of Labor Statistics (BLS), broadcast news analysts (anchors) make a median annual wage of just over $55,000 USD in the US. But the top ten percent of broadcast news analysts make an average of just under $160,000 USD yearly – a whopping $100,000 over the folks right in the middle! Almost all of these high-paying anchoring jobs are found in metropolitan areas, where the high viewership affords anchors and even reporters attention and possibly celebrity status.
Breaking into this big-city anchor and reporter world at even the lowest level is likely going to require some previous experience, and one of the best ways to get that is with on-air broadcasting jobs in small markets. This could mean some big adjustments for international students, especially those who went to school in large cities. First, a more rural area might not have the strong ethnic communities that many international students rely upon to make themselves at home in a foreign country. Second, the level of prestige in the broadcasting world – and, accordingly, the pay that goes with it – is certainly lower in less populated areas that have fewer viewers and potentially less exciting news to cover. While the top anchors boast their fat three-figure paycheck, the bottom ten percent of anchors earn an average of only $28,000 a year. That's a pretty big difference.
Don't be discouraged – just be aware of the realities of the job! There are certainly things you can do to help your situation. Look for on-air broadcasting jobs in small markets like modest college towns, where diverse cultures and activities are more abundant despite the lower population. Consider alternatives to going on-air right away, like starting off your career as a writer or assistant, opening up your job options. Whatever you do, find your way in, continue to work hard, and set your sights on moving on up!
2 Responses to "Broadcasting Reality: On-Air Broadcasting Jobs"
Anonymous Says:
March 28th, 2016 at 9:15 am

Does your website have a contact page? I'm having trouble locating it but, I'd like to shoot you an e-mail. I've got some creative ideas for your blog you might be interested in hearing. Either way, great blog and I look forward to seeing it expand over time.
Leave a Reply