Posted on January 10th, 2014 by Bryanna Davis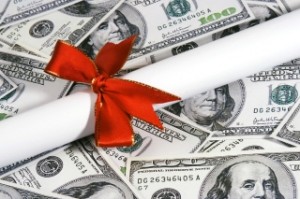 One of the biggest hurdles to becoming an international student is getting the financial support you need to get abroad! The good news is there are many scholarships out there just waiting for a determined international student like you to receive the award. Follow these steps on how to get international scholarships and make your journey abroad happen!
Find a Scholarship
Scholarships are free money which means they don't come easy- you must be determined. If you have someone willing to grant you a scholarship after a simple email request- it's probably too good to be true. So your first step is to sit down and spend some time finding a few good scholarships to apply for. By good scholarships we don't necessarily mean one that will fund your entire education. A good scholarship is one that you are eligible for! Sift through the eligibility requirements of any scholarships you come across and cross ones off the list for which you aren't eligible.
Gather Necessary Documents
When searching for an award, keep in mind that most scholarships require the following:
An Essay
A Transcript
Letters of Recommendation
Be Punctual
Before putting effort into writing the perfect essay, make sure you have enough time before the deadline to gather what you need and get everything submitted. Most scholarships will automatically eliminate any late entries- no matter how good the essay is or how much you need the money.
Don't Put Your Eggs in One Basket
While there are a number of scholarships available to international students, there are few that will cover the entire cost of tuition. This doesn't mean that you need to sit tight and wait for a big one to come your way next year- apply to as many awards as possible. Find scholarships that are granting aid to students for special interests or skills that you have and apply. Getting awarded many small scholarships can add up quickly!
Get started in the first step of how to get international scholarships and start the search here!
35 Responses to "How to Get International Scholarships"
Leave a Reply