Posted on January 3rd, 2014 by Bryanna Davis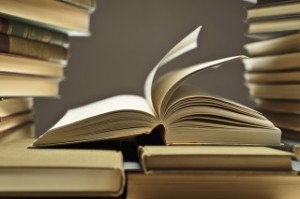 Buying textbooks at the beginning of a semester is like the adult version of school supply shopping. There's something so gratifying in a stack of new books, the inexplicable excitement of being on the cusp of a new semester.
But then you see your grand total pop up on the register, and you wonder how in the world a handful of books can cost so much. This is the moment you'll realize the beauty of secondhand bookstores and buying or renting used textbooks online.
There are a number of online sites that sell used textbooks in great condition for a fraction of the cost. The most popular of these sites is Amazon, which is well known for selling used books of all kinds. The book's condition is listed, informing you of the state it is in, including details like if the cover is slightly torn or if there is highlighting and/or markings on the pages.
Amazon is also a great website to use to sell back your textbooks when you're finished with them. When buying your books from the campus bookstore you'll be lucky to get back a tenth of the cost. Selling back your textbooks on Amazon allows you to name a fair price, and shipping is often free. Other popular sites that you will want to check out include ValoreBooks, Bigwords, Chegg and Half, an eBay company.
Another appealing option for some students is to rent the required textbooks for the duration of the semester. All of the aforementioned websites have a textbook-renting program. This can alleviate the burden of selling books back at the end of the semester or being stuck with books that you may never have a need for again. All you have to do is ship them back to the company. The downfall is that you can't mark up or highlight the books, which is a tactic some people find helpful while studying, but this can be avoided by using sticky notes or related products to mark important sections.
If you to prefer to buy your books in person and have them immediately, most campuses have a separate used bookstore or will mix in used books with the new ones. Depending on if the required reading is now out of print or rare, you may have to go to a campus bookstore to purchase the book, but this is not a frequent occurrence.
The next time you get a book list for a new semester, take a look at the prices in person and online, and make an educated decision. You may want to buy certain books new because you'd like to keep them once the course has finished. On the contrary, you may believe that some books will hold no personal value to you upon the completion of the class, so you simply rent them.
Whichever route you choose, you have a number of options, and there is one, or a combination of them, that will work out for everyone. As long as you're getting the most bang for your buck, the rest of the semester will be smooth sailing.
5 Responses to "Tips for Saving Money on Textbooks"
Leave a Reply