Posted on December 31st, 2013 by Jenny Frankel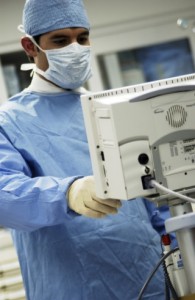 Everyone knows that doctors make a lot of money, but do you know which doctors make the most? Some of the highest paying jobs in medicine may surprise you.
1. General Surgeon
Of the highest paying jobs in medicine, this one probably won't surprise anyone. Being a surgeon is hard. It requires long shifts and it literally puts the lives of other people in your hands. Not everyone can perform surgeries for hours at a time, only to be on call and have to come back at a moments notice if you are needed.
2. Anasthesiologist
An anesthesiologist is responsible for administering pain and sleep medication for patients, typically in hospitals. Although their job duties seem very specific, and possibly easier than other doctors, anesthesiologists have all sorts of things to consider when deciding on a dosage and medicine type for a patient. After all, the wrong dose could be fatal.
3. Gynecologist
Dealing with women's health, specifically reproductive health issues, gynecologists come in at number three. Playing a vital role in women's lives, this job, like all careers in medicine, is extremely important.
4. Oral and Maxillofacial Surgeons
While the name "maxillofacial" may sounds unfamiliar and intimidating, these surgeons deal primarily with the tissues on people's mouth, jaw, and face. Some oral and maxillofacial surgeons go into plastic surgery, while others deal with issues like head and neck cancer.
5. General Internist
Not to be confused with an "intern", internist focus on the treatment of diseases in adults. There are many sub-specialties that internists can focus in, such as cardiology, infectious diseases, and even sports medicine.
Keep in mind though that the salary of these and other medical careers varies a lot, so the highest paying jobs in medicine are always changing.
No Responses to "Highest Paying Jobs in Medicine"
Leave a Reply