Posted on November 14th, 2013 by Bryanna Davis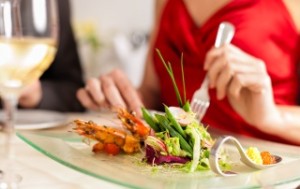 Food can often time be a fixture of national culture. The United States is home to some amazing restaurants, no matter what you are looking for when dining out in the USA. The USA has fine dining, casual restaurants, fast food, and tons of ethnic choices. Here is an inside look at a few of the options you have to choose from as an international student in the US and what you can expect from each:
Fine Dining
If you are lucky enough to study in a big city in the United States, you will have tons of options in terms of restaurants and some of these will be fine dining restaurants that have amazing food. Whether you are looking for an incredible steakhouse, gourmet burgers, or just all around great food, you'll find it in the US. Fine dining is a bit more expensive, but the quality is unparalleled. In addition, the waiting service is extraordinary. International students who choose fine dining as a meal choice should expect to wear clothes that are a bit more formal than other casual dining options since these restaurants sometimes have a dress code.
Casual Dining
Casual American dining is available in just about every city and town in America.  These are usually sit down restaurants that serve several different menu options and are usually more relaxed in their atmosphere. Prices are usually quite affordable and there may be food specials on certain days of the week.
Fast Food
International students who want a quick meal on the go will have a number of different fast food options. Burgers and sandwiches are very popular fast food meals in the US. Students can pull up in their car to the drive through window and order whatever they would like off the menu. Different restaurants offer different foods like burgers, chicken, salads, sandwiches, burritos and pizza. This is the perfect option for students that need a quick study break and some dinner.
Ethnic Food
Miss the great food from your home country? DO not fear. The US is known for having great ethnic restaurants. Since the USA is really a melting pot of different backgrounds there are numerous choices for those visiting from other countries. Many towns will have delicious Italian, German, Mexican and Asian restaurants that serve ethnic cuisine! However, keep in mind that some of these restaurants may not taste exactly the same as home since sometimes they've been altered to appeal to those in the US.
Keep in mind that while you will have limitless options when it comes to dining out in the USA, you want to pick healthy choices that allow you to have the nutrients you need to do well in class.
2 Responses to "Dining Out in the USA"
Chad Says:
November 22nd, 2013 at 8:57 pm

I agree that the US has multiple options for dining. Sometimes it is almost ridiculous how many options exist. You mention to pick healthy food. Cost can be an issue when looking at healthy options. It is to bad the cheaper food is found at the fast food restaurants. Subway is a good option and not to expensive, but you cannot eat at Subway every meal.

Ronald C. Herd II Says:
December 8th, 2013 at 12:09 am

11/14/2013
When I travel anywhere I often try to eat out at local restaurants that are unique and popular to that particular area as well as visit old familiar national chain favorites… #CreatureOfHabit
Leave a Reply