Posted on August 29th, 2013 by Bryanna Davis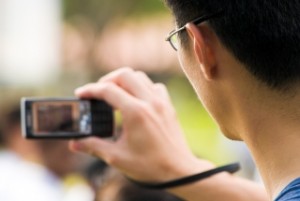 Being in a foreign place while studying abroad is exciting, with all of its new sights, sounds, smells and tastes. These are things that you'll never want to forget, and as time goes on you'll want to reflect back on and reminisce. Sometimes when we experience so many new things in such a condensed period of time, we forget details, like the name of a restaurant or a painting in a museum. For that, we can rely on a myriad of tools to help us document our journey along the way.
Writing down your thoughts is a great place to start. You can jot down words or phrases throughout the day to spark your memory. You can keep a journal or notebook that you write in about your daily activities.  Those with a fondness for technology and access to a laptop, tablet or smartphone- keeping a blog is a great way to keep your memories in one place and share them with others.
Blog entries don't have to be public; you can keep your posts private, using the blogging platform as an online journal. Many people, however, prefer to document their experience abroad on a blog so their family and friends from home can stay in touch and follow their journey. There are many different approaches to content, whether it be a rundown of your day or week or the generation of content for future travelers.
"Vlogging," or video blogging, has also risen in popularity in the blogosphere. Some international students make videos to accompany a written post, others make solely video blogs – the choice is yours! Photos and images certainly hold value, but videos add a 3D effect that simply cannot be imitated, adding a level of intimacy and connection to a virtual experience.
Now the real question is: Which blogging platform should you choose? The top three blogging websites are Blogger, Tumblr and WordPress, and picking one depends largely on what direction you foresee yourself taking your blog in and how that website can help you carry that goal out. For simplicity and versatility, Tumblr tends to be a popular choice, as it gives you the option when posting to choose between seven different formats: text, photo, quote, link, chat, audio and video.
There is no right or wrong answer to how you should keep track of the experiences you'll have as an international student. Sometimes you'll have incredible experiences where you don't take a single photo, because you were having such a good time. And that's okay, too. But for the moments you do remember to jot down, snap or shoot, you now have many options to choose from to remember your experience as an international student.
No Responses to "How to Remember Your Experience as an International Student"
Leave a Reply