Posted on September 2nd, 2013 by Jenny Frankel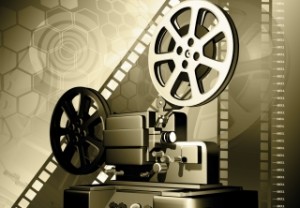 Over the history of film, many different inventions have been created, embraced and rejected. Some are evergreen, still being used today. One standard that still lasts today is film size. 35 mm film is still the default regulation.
Many visionaries of early film experiments used 35 mm film. When Thomas Edison and W.L.K. Dickinson were inventing the kinetoscope, a device that moved film through the camera by an electric motor, they chose 35 mm film. The Lumiere brothers, who invented the cinematographe around the same time, which was a portable, hand held projector, also used 35 mm film.
But other formats have been used in the history of film, such as 70 mm, 50 mm and 38 mm.
So how exactly did 35 mm become the standard when there were so many other film sizes?
In the late 1880s, Edison owned most of the American patents in regards to camera technology. This monopoly favored two American production companies which was Edison's and Biograph, who used a different camera design. All other companies were stuck importing foreign film. These companies decided to approach Edison to negotiate a licensing agreement. In 1909, the Motion Picture Patents Company was created by the major American film companies, Edison, Biography, Vitagraph, Essanay, Selig, Lubin, Kalem, American Star, and American Pathe. From this, 35mm became the standardized film used. It was named standardized stock, in Germany and in France. Eastman Kodak became the main film supplier.
Of course, 35 mm film isn't the only type of film that was ever used again. Edison himself invented a home kinetoscope for home safety using 22 mm film, after a fire destroyed a Parisian cinema due to flammable film. Kodak, trying to keep up with its competitor, invented a 16 mm film for a commercial market in the 1920s. Kodel, working off Kodak's 16 mm film, used 8 mm film to reach an even cheaper price for their projector. In the 1960s, the 8 mm film was enlarged, creating super 8 film.
No Responses to "History of Film"
Leave a Reply