Posted on June 10th, 2013 by Jenny Frankel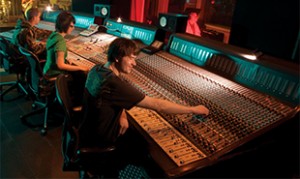 It's easy to become overwhelmed when choosing between colleges. With the abundance of schools and information available, it can be nearly impossible to determine which school is right for you. When choosing a recording engineering school, as with any college search, it is important to factor in issues such as cost and preferred class size. Once you've narrowed it down, here are some other distinguishing factors to keep in mind:
Internship Availability
Students choosing a career in recording engineering should look for schools that offer internship opportunities in the recording industry. Graduates with actual work experience in their field have a greater chance of getting hired than those without experience. Many schools assist students in finding off-campus opportunities in local studios that help students gain real-world knowledge and hands-on experience in their chosen field. It is a good idea to establish an amiable relationship with faculty members, as internships are often secured through faculty connections. A good internship can translate into a good reference or potential job prospects once you've graduated.
Location
International students who study recording engineering at schools located in large cities, particularly large music centers such as New York, Florida or Los Angeles, may have more opportunities for internships in the recording industry before and after graduation.
Availability of Studio Time
Much of what the recording engineering student is taught during his or her time at school is learned in the recording studio. Therefore, when choosing a recording engineering school, it is important to determine that one will be able to spend as much time in the studio as possible. Students should determine that a prospective school has enough recording studios to accommodate all of its students and that all of its recording equipment is up-to-date. Students should consider the ages and models of the equipment each school offers for its students' use.
No Responses to "Choosing a Recording Engineering School"
Leave a Reply