Posted on June 3rd, 2013 by Bryanna Davis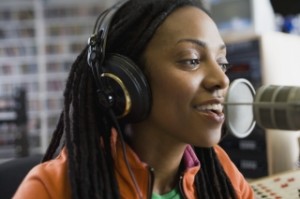 For any international student who wants to eventually work as on-air broadcasting talent – an anchor, reporter, correspondent, radio host, etc. – diction in broadcasting will be an especially important skill. Unfortunately, dictation can be a weak point for international students attempting to study broadcasting in the U.S. depending on their comfort level with the English language. Let's look more into what diction is, how it plays into broadcasting, and how it can be improved.
Generally, the word "diction" refers to a person's vocabulary and choice of words in communicating, but diction in broadcasting specifically concerns the pronunciation and clarity in actually saying those words. Diction can depend both on temporary factors – physical energy, mental alertness, nervousness – and on long-term factors, like age, linguistic upbringing, and of course the actual physical state of a person's mouth, throat, and vocal chords.
Diction in broadcasting is one of the most vital skills for on-air jobs. Anyone who speaks in any broadcasting medium absolutely must be able to be heard and understood easily by all listeners who have a reasonable mastery of the language they are broadcasting in. Aspiring on-air broadcasters are usually required to submit a taped audition to be considered for a job; even for television broadcasting, in which recruiters analyze both the sound and appearance of a candidate, diction is often the single most scrutinized element.
Given the importance of this skill, classwork focusing on diction in broadcasting is included in almost all broadcasting programs, especially radio broadcasting programs. This coursework may take the form of a single class focused solely on diction or it may fall under the umbrella of a larger class in on-camera presentation or reporting techniques.
International students looking to improve their diction in broadcasting can also work on it on their own. Reciting tongue-twisters and practicing speaking in a presentational tone regularly are both ways to improve diction. Try buying a voice recorder so you can honestly analyze your diction and work on problem areas. Overall, remember that it takes time, so don't give up!
No Responses to "Skill Breakdown: Diction in Broadcasting Programs"
Leave a Reply