Posted on October 13th, 2012 by Apinant Hoontrakul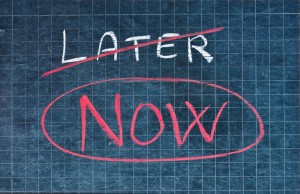 Procrastination is a problem that plagues students everywhere. However, if you are an international student, procrastination becomes a bigger issue compared to when you are back at home. With exciting new places to explore and people to meet, you may find yourself putting off your studies and then finding out right before your exam that you are completely unprepared to do well. To keep you on track and enjoying your study abroad, here are some tips to stop procrastinating:
First, get organized.
– Make a list of what you need to do and prioritize based on importance and deadline.
– Create a schedule based on your list, set up specific times where you will commit yourself to studying. But don't schedule everything all at once or you may find yourself overwhelmed.
– Allow time in between for fun activities to reward yourself after completing a task.  
Second, eliminate distractions.
– Tell your friends when you have scheduled time to study so that they will not disturb you.
– Make sure you have everything you need before starting so that you will not have stop in the middle of the task and break your concentration.
– Have a specific location for studying somewhere away from where you usually spend your day. A change in your environment can increase your productivity.  
Third, just do it.
– Try to catch yourself when you are about to procrastinate and push yourself to just do it! Sometimes getting started is the hardest part but once you start, things become much easier.
– Ask your friend or classmate to study with you. If you have trouble getting started in the first place, making a commitment to another person can be a good motivation to stick to your goal.  
While experiencing new cultures is an important part of an international education experience, it's also important that your studies not be neglected. These are just a few tips to help conquer procrastination, if you have more strategies that you find effective please share your thoughts below!
Picture from Shutterstock.com
3 Responses to "Don't procrastinate while you're studying abroad!"
Quiana Kanis Says:
November 12th, 2012 at 11:34 am

Somebody necessarily assist to make seriously articles I may state. I surprised with the research you created to make this actual put up incredible.

sua nuoc enfamil Says:
October 23rd, 2020 at 10:47 pm

Admiring the persistence you put into your site and detailed information you present.

It's nice to come across a blog every once in a while that isn't the same unwanted rehashed information. Fantastic read!

I've saved your site and I'm adding your RSS
feeds to my Google account.

Connor Blay Says:
October 26th, 2020 at 1:08 pm

We're glad to see that you enjoy it! Thank you for reading, Sua!
Leave a Reply